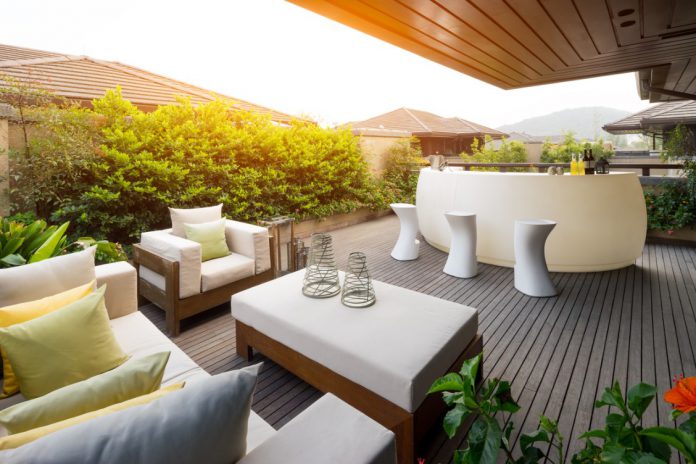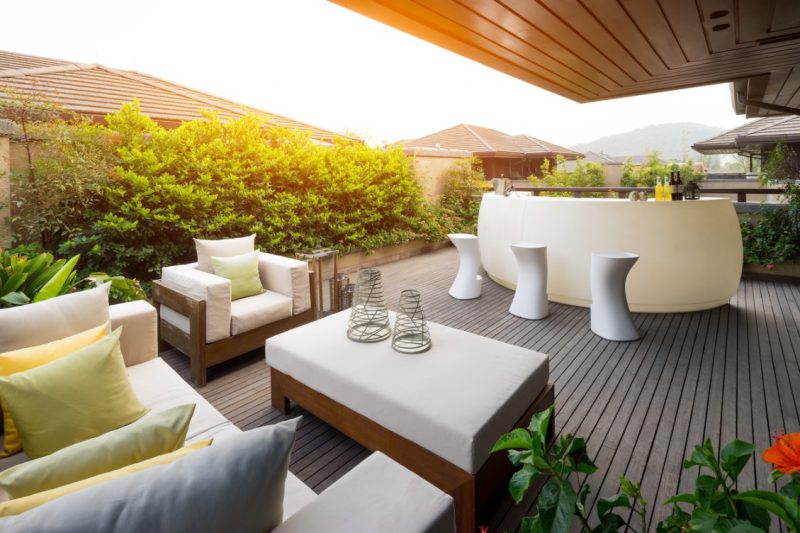 Simdreamhomes.com – Currently, the existence of the park is rarely found. This is because the vacant land has been used for the construction of buildings and houses. In fact, parks have an important function and role in our lives. This is also one of the reasons why a rooftop garden is created in every building, both buildings and houses.
A rooftop can not only be made into a beautiful and fresh garden but can also be made into a cool and comfortable place to hang out with family and friends. Enjoying vacation time by hanging out with the people we care about is much more fun. It will be much more fun if the atmosphere of your home is supportive.
So, in this article, we have provided The Best Designs of Rooftop for Relaxing and Gathering that can be your references. So, let's check it out!
Cozy Rooftop with Comfortable Seating
The right time to enjoy the rooftop atmosphere is in the morning and evening. When in the morning, the air will be much fresher and healthier. And at night, romantic nuances and beautiful scenery will be obtained. However, it would be a waste if there was no place to sit. Enjoying the atmosphere is indeed good while sitting. Therefore, it is very important to present a seat on the rooftop.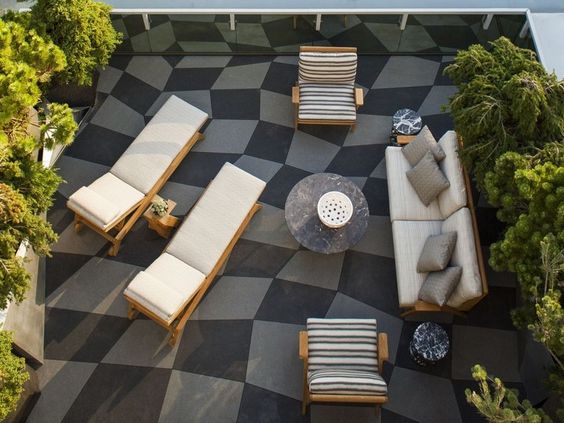 There are several benches that can be used to make the rooftop in your house feel comfortable: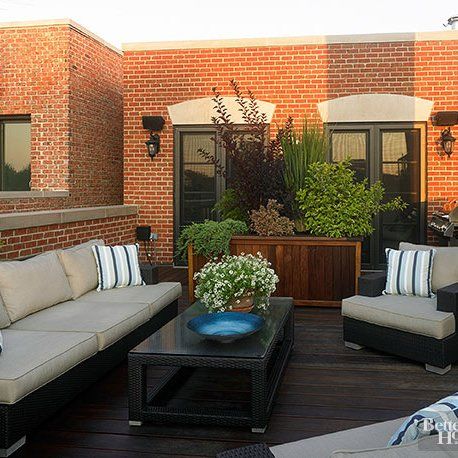 Wooden benches are indeed the right choice for use on a rooftop. Benches made of teak are the best benches to use. Teak wood is the strongest type of wood so it will not be brittle even when exposed to water. So, when rain or snow comes, you do not have to bother moving the bench.
The hard texture indeed makes wooden bench uncomfortable to sit on for a long time. Therefore, add a soft cushion on the wooden bench. So, when it rains, you only need to bring a cushion.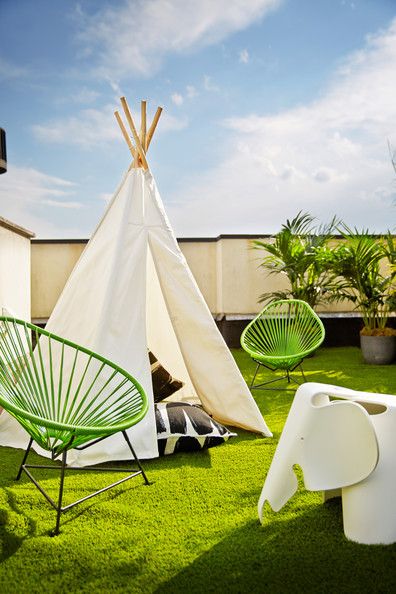 Next there is the acapulco chair. Acapulco chair has a higher back so it will make you feel comfortable when sitting on this bench. Simply add a cushion and pillow on the acapulco chair. You can also give a colorful rooftop impression by choosing beautiful colors on the cushions and pillows that you will use.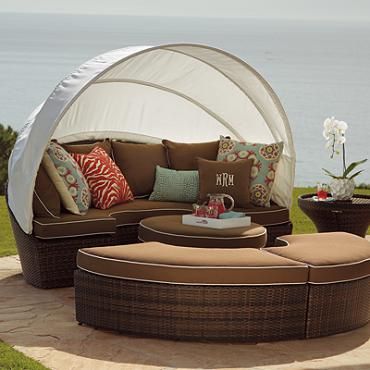 An outdoor round daybed is a type of chaise lounge that can be used to make a rooftop a place to rest and spend spare time. This bench is usually used in swimming pools for sunbathing and relaxing. However, using an outdoor round daybed is an interesting idea to make the rooftop feel comfortable and look attractive.
There are two types of daybeds that can be used:
With a cover
Without breakers
A daybed with a cover will certainly feel more comfortable. When it is daytime you can use this cover to protect yourself from the sun. And you can open the lid when you do not want to use it. It's just that for an outdoor round daybed with a cover the price is more expensive.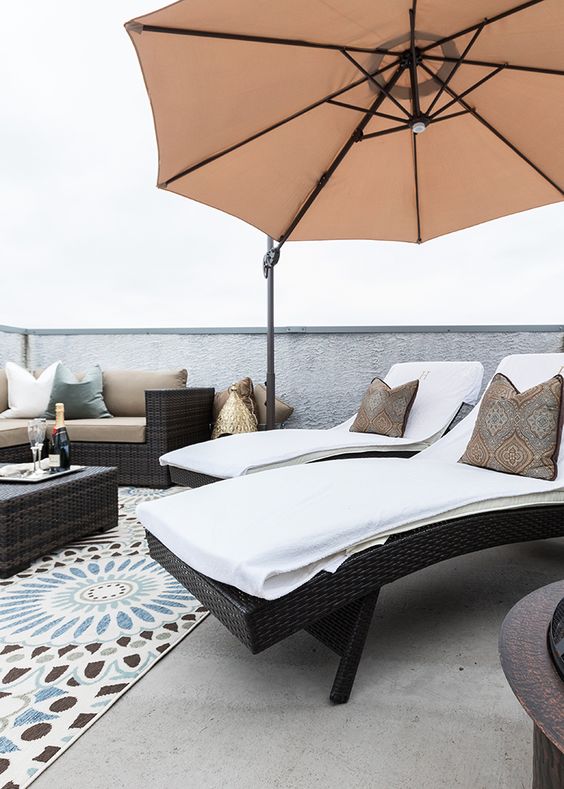 The last type of bench that can be used for a rooftop is an outdoor sun lounger. This chair is perfect for those of you who like sunbathing. Lie down in the outdoor sun lounge in the morning can indeed boost your mood and make you spend the day happily.
Pleasant Rooftop with Hammock
Almost everyone prefers lying down rather than sitting. Therefore, benches are not the only item that can be used to make a rooftop a comfortable place. For those of you who prefer lying down, a hammock can be an option.
Usually, a hammock is used by hooking a hammock rope on the two sides of a large tree trunk. However, using a large tree on a rooftop is not possible, especially if your rooftop is small. Therefore, you can make a foundation and then tie a hammock rope there. Make sure that the foundation you are using is strong enough.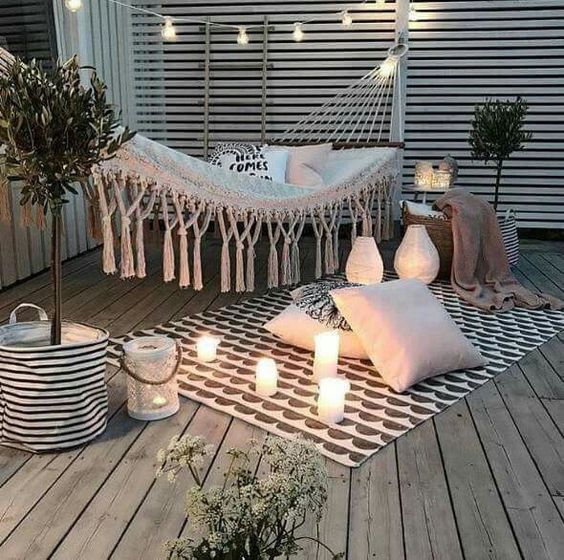 Hammocks can also be designed as attractive as possible to make the rooftop look prettier, like adding a blanket and a few pillows there. In this way, the rooftop will also feel more comfortable.
To build a comfortable atmosphere on the rooftop, add some additional lighting such as string lights or aromatherapy candles. The warm lighting will make the rooftop atmosphere warm and romantic.
Relaxed Rooftop with Heater
At night, the air does become cooler. This is also one of the reasons why people will prefer to relax and gather with family indoors rather than on rooftops. In fact, the view and rooftop atmosphere will be much better at night.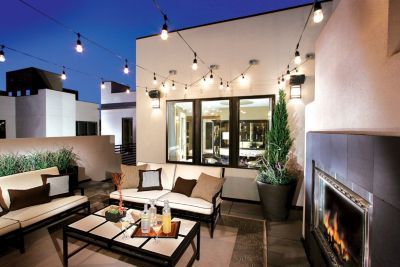 So, to make the rooftop a place to relax and gather with your family, try using a heater. There are several heaters that can be used to warm the rooftop air:
Fireplace is a heater that has been used from ancient times. There are two types of fireplaces that can be used:
Traditional fireplace.To light a fire in traditional requires the old way, namely by using several logs and lighting it using a lighter. However, the weakness of the traditional fireplace is that the burning ash can make the rooftop dirty when blown by the wind.
Electric fireplace. To turn on the fireplace is much easier. Just press the button there. However, the electric fireplace requires electricity, unlike a traditional fireplace. However, an electric fireplace will not make your rooftop dirty.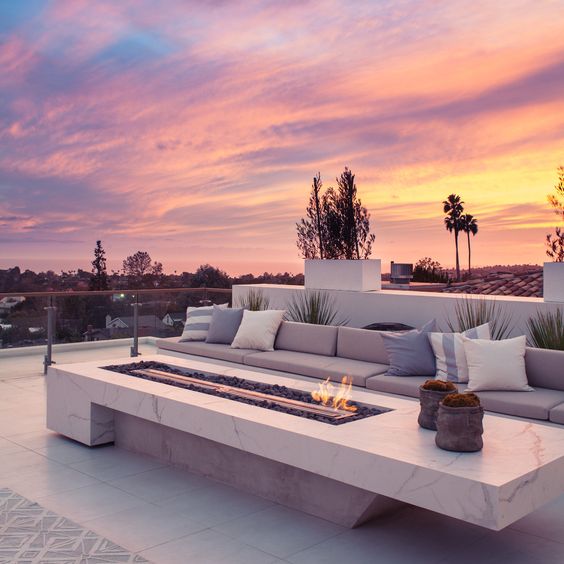 The fire pit is usually used in the middle of the seat/sofa on the rooftop. That way, the warmth of the fire pit will be felt by all the people who are sitting on the sofa/bench on the rooftop. In addition, firepit can also be used to burn marshmallows. In this way, the rooftop will be a cool place to hang out with family and friends.
Fun Rooftop with Swimming Pool
The atmosphere of the swimming pool is cool. This is why pool parties are often held. Not only that, the water in the swimming pool can also provide a calm atmosphere. So, there are two benefits that you will get from making a swimming pool at your home.
Making a swimming pool does require a large area, therefore, to save land at home you can make a swimming pool on the rooftop of your house.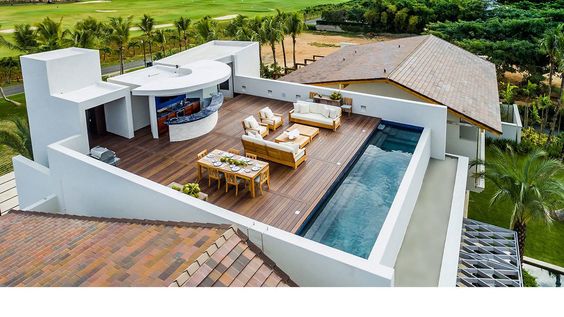 The swimming pool on the rooftop will be much more beautiful. Swimming while enjoying the view from above is the most fun thing. Besides that, the rooftop can also be used as a place to gather and party.
For floors, use wooden floors. Wooden floors will not feel slippery even when exposed to water from the swimming pool. In this way, the rooftop will be safe for both adults and small children.
To make the rooftop with the swimming pool look perfect, add some decorations such as lazy benches, additional lights, and some greenery.
Fresh Rooftop with Open Garden
Want a rooftop with a fresh green look and a simple look? The rooftop with an open garden is a rooftop design that you can follow. You do not need to be weird, making a rooftop with an open garden is quite simple, all you need is a few green plants.
Giving a roomy impression on the rooftop can be done by giving grass. For the rooftop side, you can plant some green plants that can help the atmosphere and fresh look on the rooftop.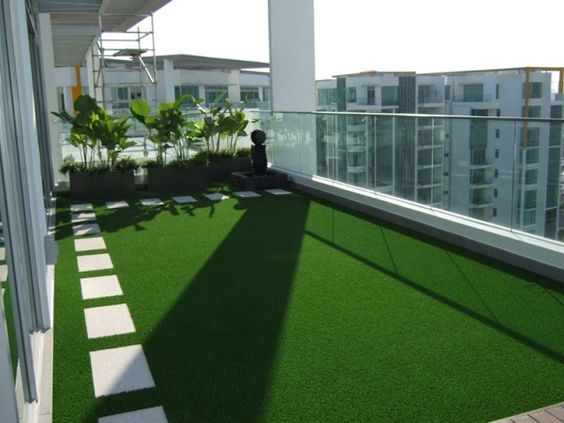 Providing beautiful colors can also be done by planting beautiful flowers. Besides that, planting flowers can also make the air on the rooftop smell nice. In this way, the rooftop will not only feel fresh, but will also be a comfortable and relaxing place.
For grass on a rooftop, there are two types of grass that can be used: alsi grass and artificial turf. For real grass you need soil and when it rains, the rooftop will get dirty. Unlike synthetic rooftop, it won't make the rooftop dirty. However, synthetic grass can become a dust den and should be cleaned regularly.
Stunning Rooftop with Jacuzzi
Soaking in warm water is indeed a fun thing, especially after a tiring activity. Usually, soaking in warm water is done in the bathroom bathtub, but you can get a new, more comfortable atmosphere, that is the rooftop.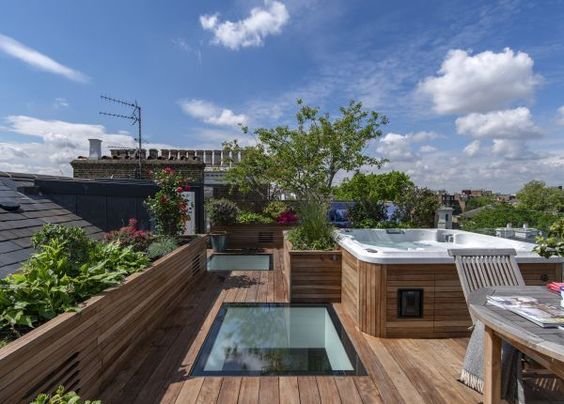 Making a rooftop with a jacuzzi is the right idea. Soaking in warm water while enjoying the beautiful view from above can indeed relax your mind and yourself. Plus if there are some fresh greenery, the rooftop will feel so comfortable.
Just like a swimming pool, the floor used on the rooftop with a jacuzzi is a wooden floor to avoid slippery floors and can make people who are there slip and get injured. In this way, the rooftop with jacuzzi would be the perfect place.
Conclusion
As a place to live, the house must be made to feel comfortable. Creating a new atmosphere at home is indeed an interesting idea, and a rooftop is the right place. There are several designs from the rooftop that can make your home feel so comfortable. And in this article, we have provided The Best Designs of Rooftop for Relaxing and Gathering that can be your references.