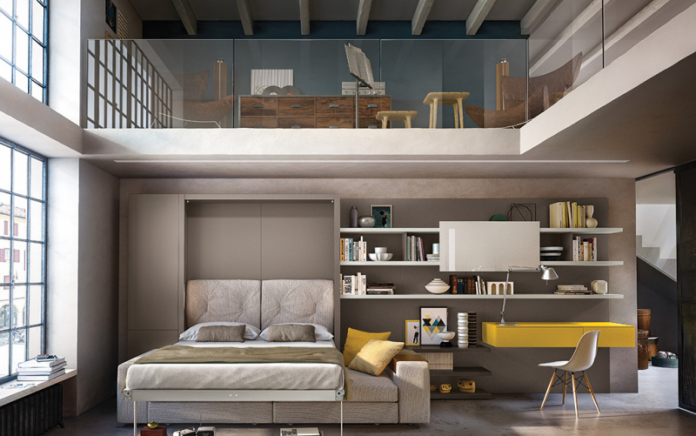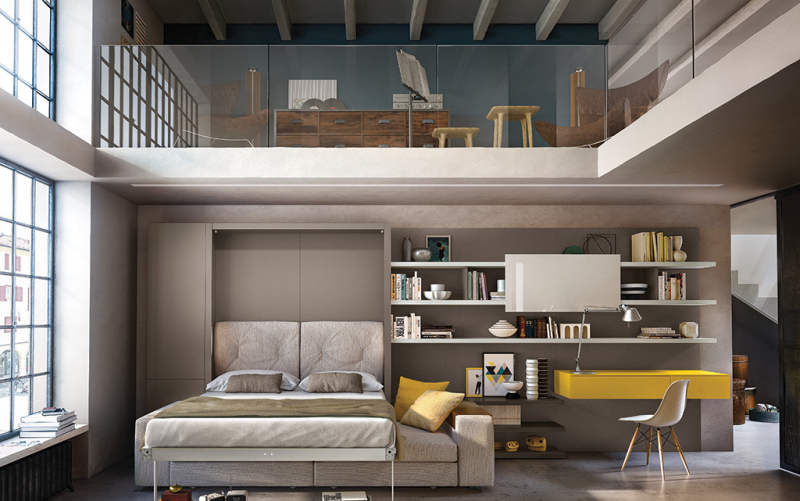 Simdreamhomes.com – The day the human population is increasing. And this is one of the reasons why empty lands have started to decrease.
To provide a large number of places to live, the architects took the initiative to create a house with a minimalist size. And it turns out, a minimalist house is one of the most popular residences for many people. Besides the affordable price, a minimalist house is perfect for those of you who have a small family. The family atmosphere will be so thick and will make you feel comfortable when you are at home.
However, the rooms in minimalist homes tend to be narrow, so you have to be careful when choosing furniture. To provide excess free space in a minimalist home, choosing multifunctional furniture is the most appropriate idea.
And here is the Multifunctional Furniture to Save Space in Your Room. So, let's check it out!
Sofa with Storage
Too many items in a minimalist home will certainly make the house messy and dirty. In fact, a minimalist house must appear neat and clean so that a minimalist house can become a comfortable place to live.
Using too much furniture will certainly make the room even narrower. So, what if you take advantage of furniture that can be used as a comfortable seat and also a smart storage area?
Sofa with storage becomes multifunctional furniture that can be chosen to save space in the room. For items that are not needed and considered to disturb the comfort and beauty of the room, it would be nice to store these items in the sofa storage.
Some sofas have sizable storage so they can store large amounts of items.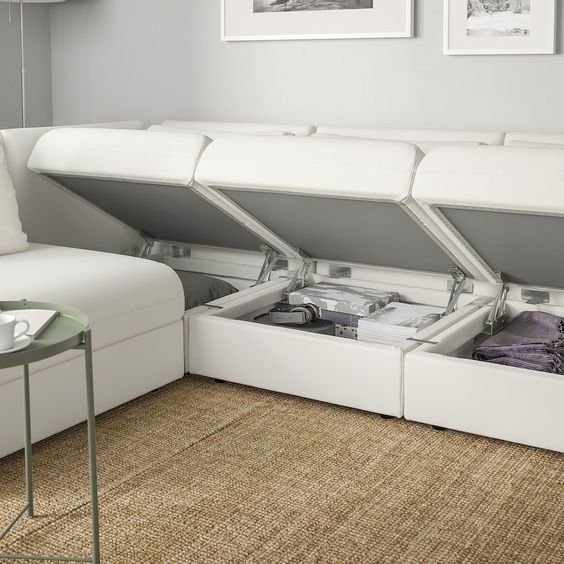 A sofa with storage can also make a living room a comfortable and practical room. During winter, cold air will make us uncomfortable to relax in the living room. Storing a few blankets on the sofa storage is a good idea. In this way, you can relax comfortably during winter in your small living room without having to go to the bedroom to get a blanket.
Loft Bed with Workspace
In a minimalist house, of course, not many rooms are offered. Creating a place to work (home office) cannot be realized in a minimalist home.
In addition, a small bedroom will feel cramped if a bed and desk are placed. As we know that the bed and desk are large pieces of furniture that take up a lot of space in the bedroom. So, what if you combine these two pieces of furniture into one piece of furniture?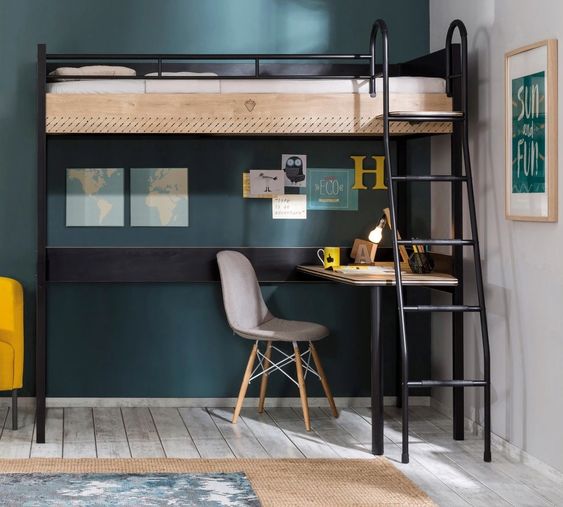 Currently, loft beds with workspaces are popular, especially among teenagers. Using a loft bed with workspace, of course, will greatly save space in the bedroom. In this way, you no longer need to worry that your small bedroom will feel cramped and uncomfortable.
Nightstand Desk
Still discussing how to save space in the bedroom. If you are the type who uses the table-side to put the night lamp and alarm clock, you can combine the table-side function by using a nightstand desk.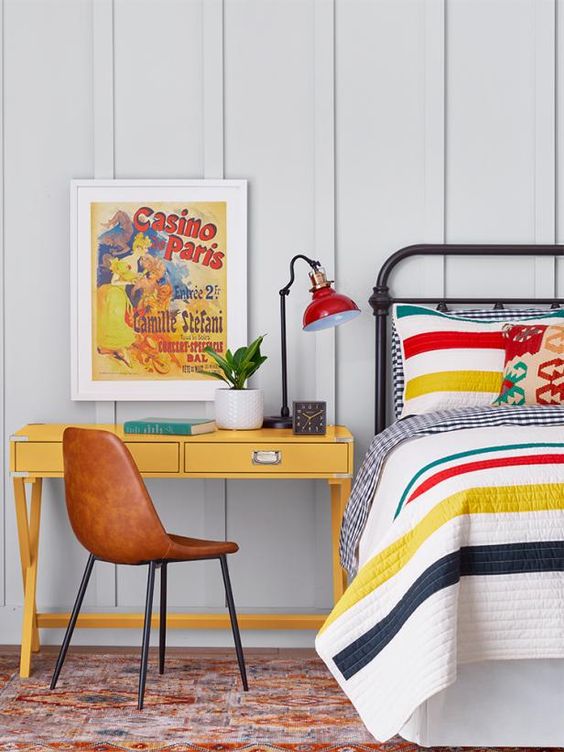 The nightstand can replace the table-side function which is used to put the night lamp and alarm clock. Besides that, the nightstand desk can also function as a place to study or work.
It is a good idea to choose a nightstand desk that has several drawers. These drawers can be used as a place to store some of your stuff so they do not scatter in the bedroom and make the bedroom messy.
A bench for a nightstand desk, choose a bench that is not so big. Try to push the stool into the nightstand desk so it does not take up much space in the bedroom.
Lift-Top Coffee Table
The Covid-19 pandemic makes us do almost all activities at home. Working from home is a mainstay in times of a pandemic like this.
If working all day in the bedroom will make us saturated, try to work in different rooms.
If the living room usually becomes a place to relax like watching TV while eating cereal, now is the time to make the living room a comfortable room to work.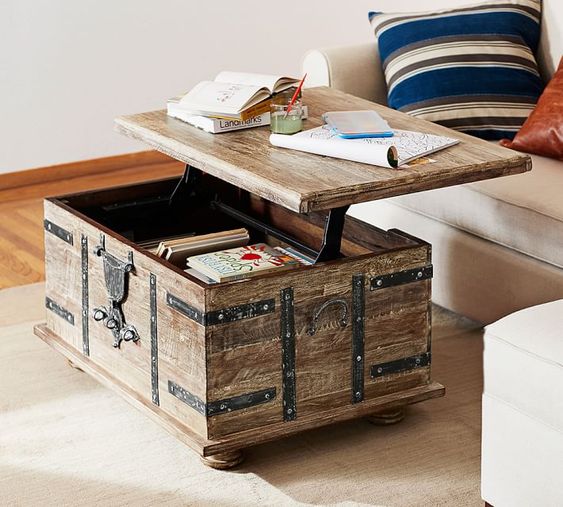 The lift-top coffee table is a multifunctional item that is perfect for use, especially in pandemic conditions like this time. The tabletop raises up and makes the coffee table the perfect table for work. And when it is not in use, you can lower it back down so that its function is no longer a desk, but a coffee table for the living room.
Try to choose a lift-top coffee table that has storage space in it. So, you can put unnecessary stuff in here.
Shelf As A Room Divider
Narrow dwellings really need furniture which can be used as a storage area for several items. And the shelf is the most appropriate furniture to use. Apart from being a storage area, shelves are also often multi-functional as a place to display several displays that can make the interior look more attractive.
Not only that, by relying on creativity, shelves can also function as room dividers.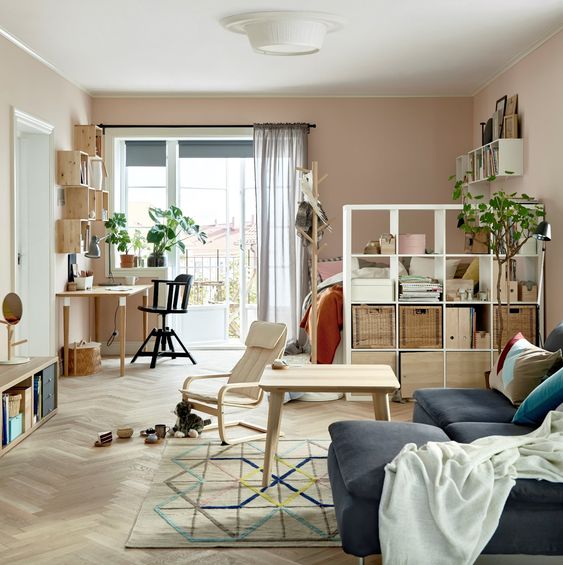 For a minimalist home, it would be nice not to make a wall as a room divider because this will only make the minimalist house feel even narrower. So, utilizing the shelf as a partition is a great idea.
Some rooms are made with an open and airy concept, such as a kitchen with a dining room, a living room with a kitchen, or a living room with a dining room. To make a difference to these two rooms, put a shelf in the middle of these two rooms.
Use the shelf as a partition can not only be applied to minimalist homes, but also for studio type apartments.
Coffee Table with Storage
In the living room, the sofa is not the only main item. There is a coffee table that must also be used to make the living room look perfect. The sofa and coffee table are a complete package that cannot be separated.
To add storage space to a living room, a sofa with storage is not the only multifunctional item that can be used in this room. There is also a coffee table with storage as shown below.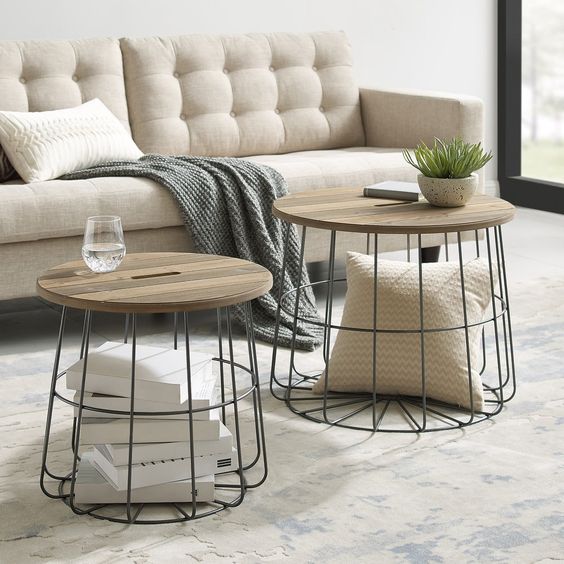 There are various kinds of designs from coffee tables with storage that you can choose according to the decoration and design of the living room in your minimalist house. However, for a small room, it would be nice to choose a coffee table with a simple design.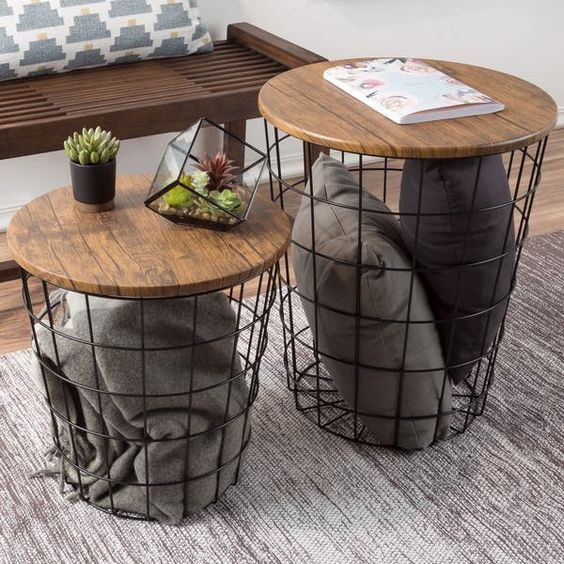 Storage basket design metal wireframe coffee table can be used as an option. This coffee table design can also function as a living room decoration. Some of the items stored in the coffee table will look and give an attractive impression to the living room.
Nesting Table
Who says using a large number of tables can make a narrow room even narrower? For those of you who need more than one table, nesting tables become multifunctional furniture that you can choose and use to decorate a living room in your minimalist house or apartment.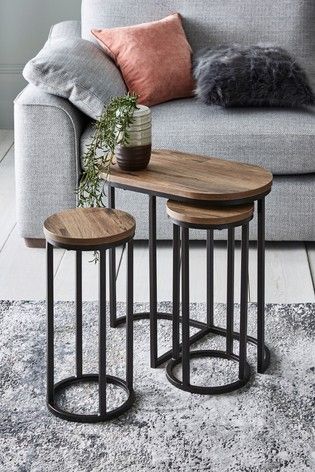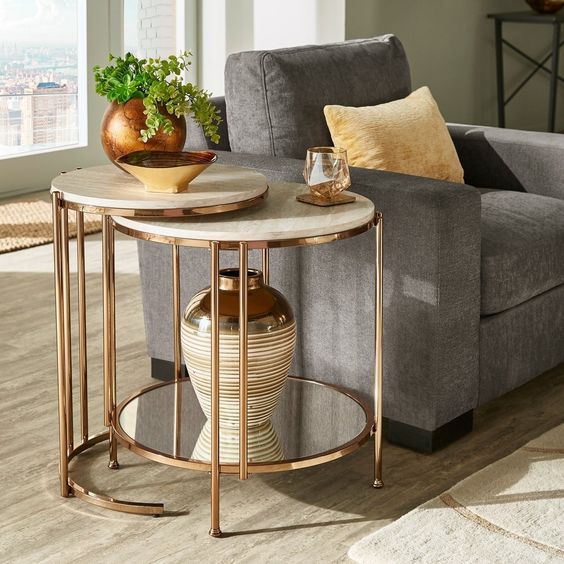 In the nesting table, there will be several tables with different heights. You can make it as a coffee table or as a side table. And when you only need one table, you can combine the tables into one so that it will really save space in the living room.
Bed with Storage
As a private room, the bedroom must be made as comfortable as possible. Making a small bedroom comfortable is by giving more free space to the bedroom. So that the bedroom will feel more spacious and far from feeling cramped.
Usually, in the bedroom, there will be important furniture for a large size, such as a desk, bed, and cupboard. Not to mention the other items. Of course, a small bedroom will feel uncomfortable.
To deal with this, how about combining the functions of this large furniture into one?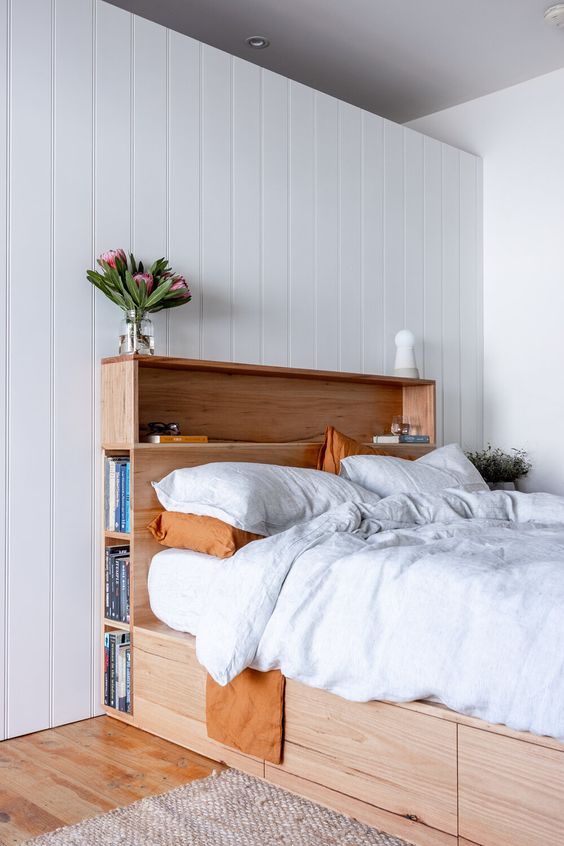 Currently, there are many furniture shops that sell beds with storage. Starting from a headboard that is made like a shelf, or a bed with several drawers for storing clothes. By using the bed with storage, you no longer need a cupboard for the bedroom. In this way, there will be lots of free space that you can take advantage of.
Daybed As A Bed and Sofa
For studio type apartments (small size) it makes us unable to use too much furniture. So that we can often only use furniture that is essential and needed.
Beds and sofas are very important items. However, because the size is too big, we cannot use these two items to fill a small apartment.
The bed is very important furniture for rest and sleep. However, a sofa is also very important if guests come to your apartment.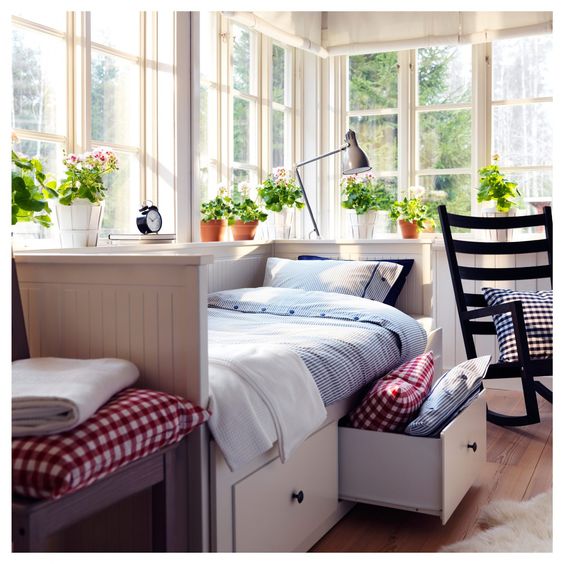 So, for saving space in the room, try to choose a daybed. This daybed can be used as a bed and also as a sofa. It depends on how you arrange the pillows on the daybed.
Because it will be used frequently, so try to change the bedsheets often so you can feel comfortable when sleeping.
Conclusion
Minimalist housing, be it a house or an apartment, is the type of residence that is most in demand by people. This is because the price offered is also quite affordable. However, because the rooms in minimalist living spaces tend to be small and cramped, we must be smart in choosing the right furniture to fill our living space. And using multifunctional furniture is the most appropriate way to make a small room so it does not feel cramped. And in this article, we have provided Multifunctional Furniture to Save Space in Your Room. You can choose multifunctional furniture according to your needs. So, good luck!