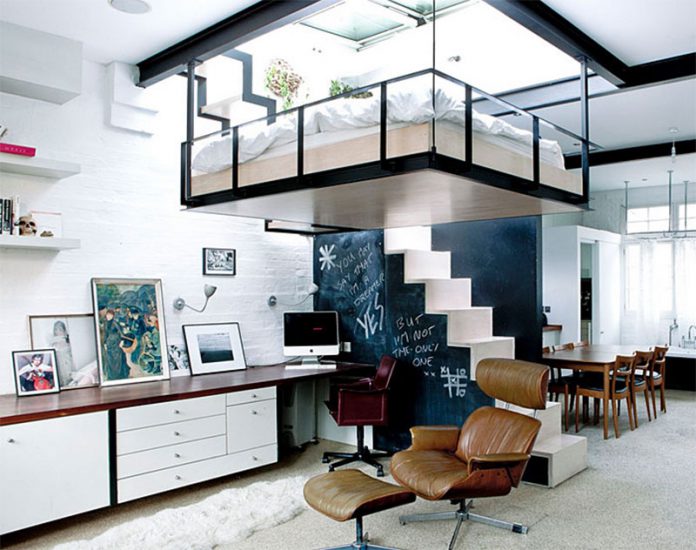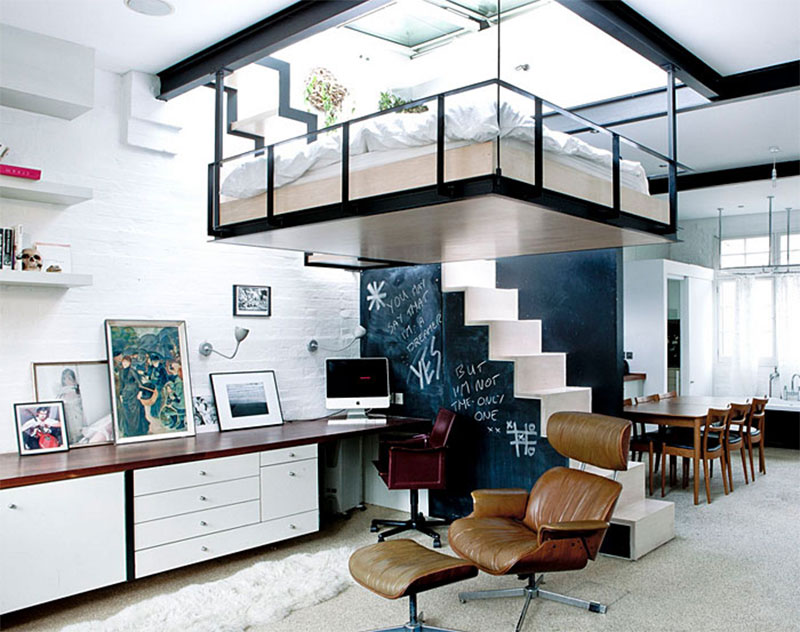 Simdreamhomes.com – Due to the increasing human population and the addition of less vacant land, the architects present minimalist home styles. However, it is unexpected that a minimalist house has become a style of home that is loved by many people. Lifestyle factors that make this minimalist style house a target.
Indeed there are many advantages you will get from living in the minimalist house, such as:
Easy to clean
Easy to choose the interior design
Minim decoration
Feel warm and cozy
Save a lot of budgets
These advantages make people prefer to live in a minimalist house. Unfortunately, besides the advantage, the minimalist house also has a deficiency that might you do not know. The minimalist house easily feels cramped and stuffy which will affect the comfort of the house itself. Moreover, the wrong room decoration.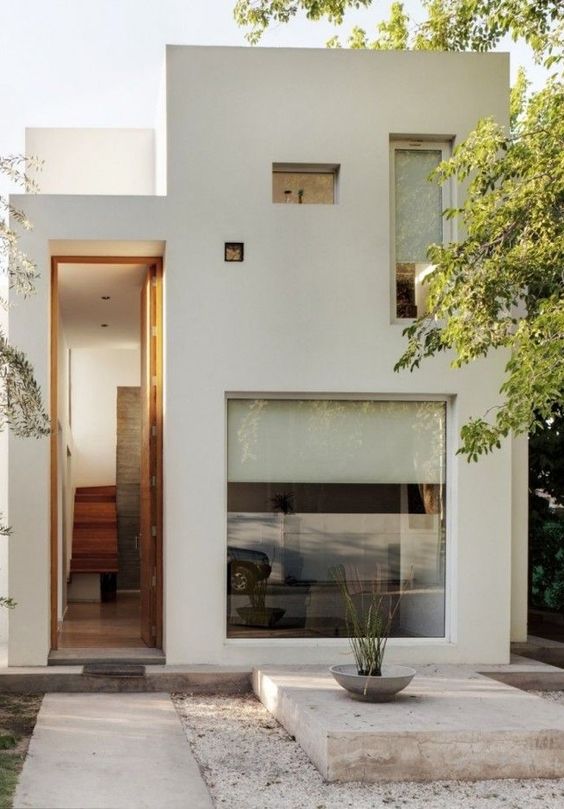 But, it does not mean that the minimalist house could not become a cozy place to live. With the right interior design, the minimalist house will be beautiful and cozy. So, here are the Great Designs to Make The Minimalist House Beautiful and Cozy. Let's check it out!
1. Scandinavian Interior Design
Who doesn't know Scandinavian Interior Design? This design is one of the popular designs that is often applied to home interiors, especially minimalist homes. In fact, almost all minimalist homes apply this design to make the interior of the house look so sweet and comfortable.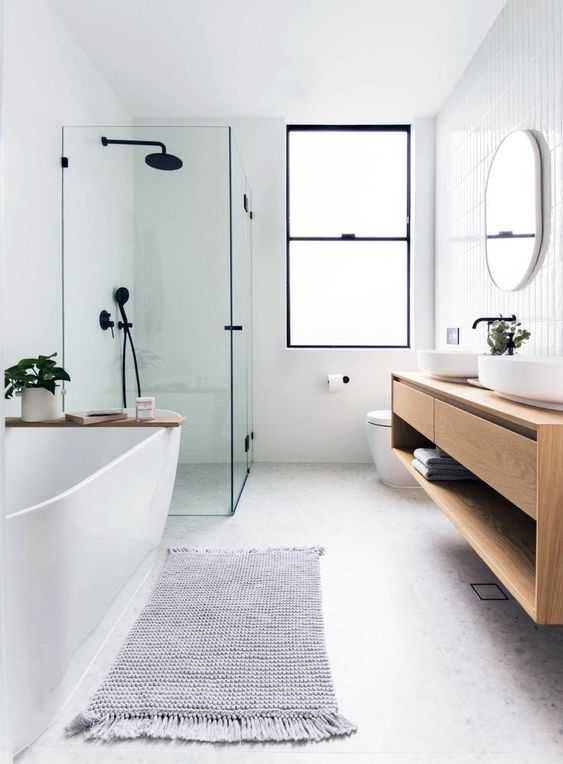 Here are the explanations of Scandinavian Design that might interest you.
Neutral Colors That Makes The Interior Look Soft and Soothing
Each design certainly has its own color character. And for Scandinavian design, the colors used tend to be neutral colors that can provide a soothing sensation into the interior.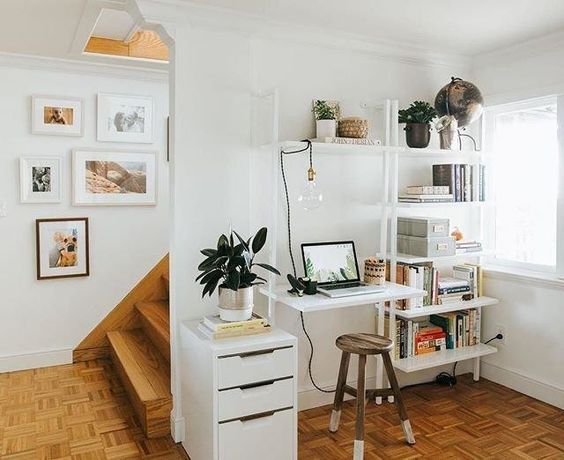 Scandinavian Design has 4 colors that look very sweet and soft when combined:
White. This one color is usually used as the basic color of the room. White color can make the room look so bright. The effect of making white as a base color is being able to make the room look more spacious and not cramped. So that it is suitable to be applied in a minimalist home.
Beige. The soft appearance that can be felt from Scandinavian design comes because of the beige in the interior. Usually beige comes in the form of wood, such as wood floors, wooden furniture, some beige decorations, and so on. The wood used is wood with bright colors so the room will feel comfortable.
Grey. The gray color on Scandinavian is usually used for items made from fabrics, such as sofas, pillows, and carpet/rug.
Black. Some black wall decorations and the use of black iron lamps make Scandinavian-style rooms look a bit striking but calming.
Combining these fourth colors in one room will make this room looks great.
The Present Warm Nuance from Natural Lighting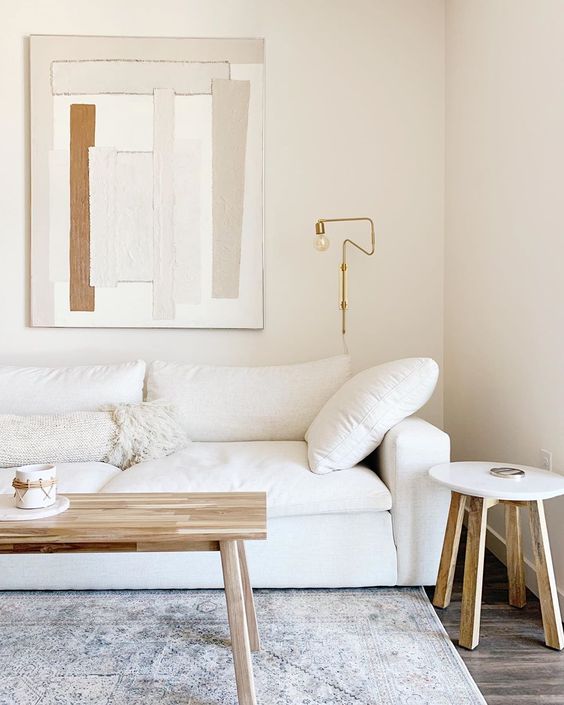 The Scandinavian design prioritizes the use of natural lighting to illuminate the room. Excessive natural lighting is great for minimalist homes. Warm nuances will be present so that the minimalist home feels so warm. In addition, excess lighting can also make a small room look more spacious.
The Cozy Modern Look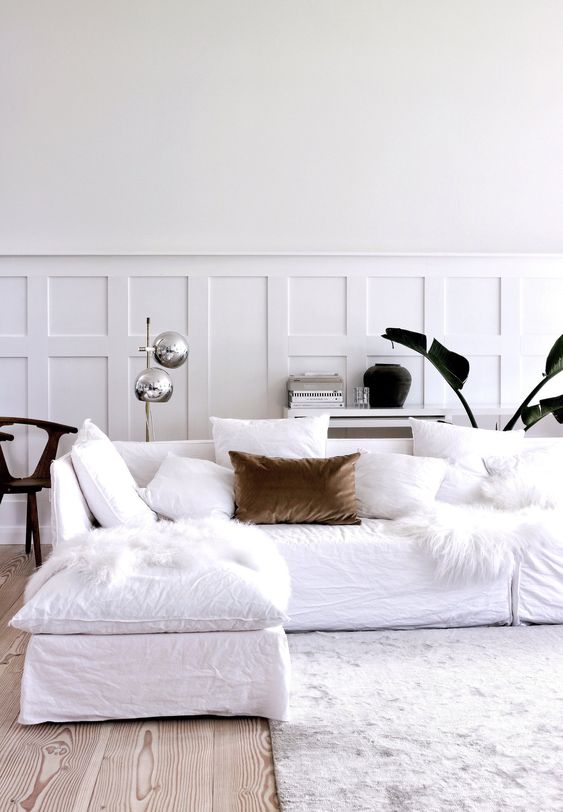 If you like the modern look, Scandinavian Design is the most appropriate design to be applied. This is because furniture and decoration used in Scandinavian-style rooms are not too much. The beauty and simplicity are the things that make this design look attractive and modern. The colors used also tend to bright colors that are soft and bright.
2. Rustic Interior Design
Rustic Design was first present in the countryside in European states. The theme that embraces the farmhouse is able to make a minimalist home feel so warm and comfortable.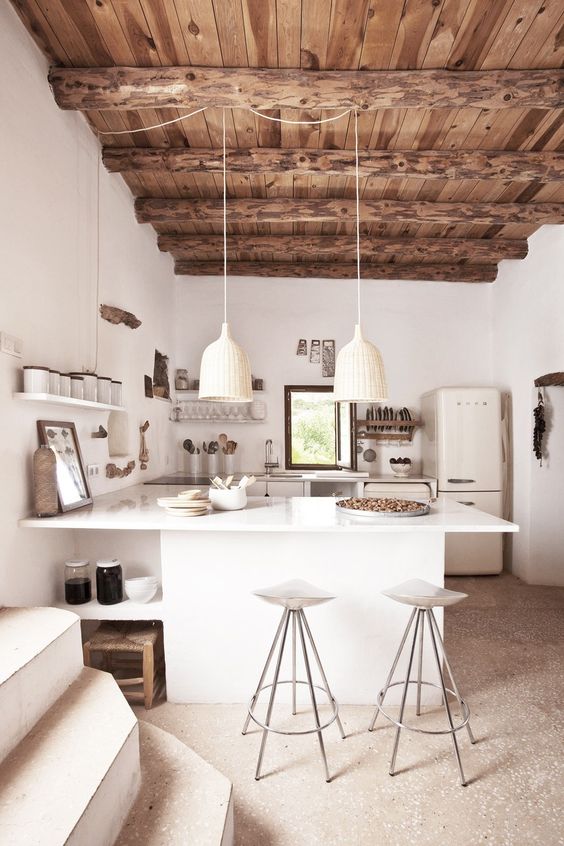 So, let's get straight to the explanation about this Rustic Design.
Nature Material That Easy to Find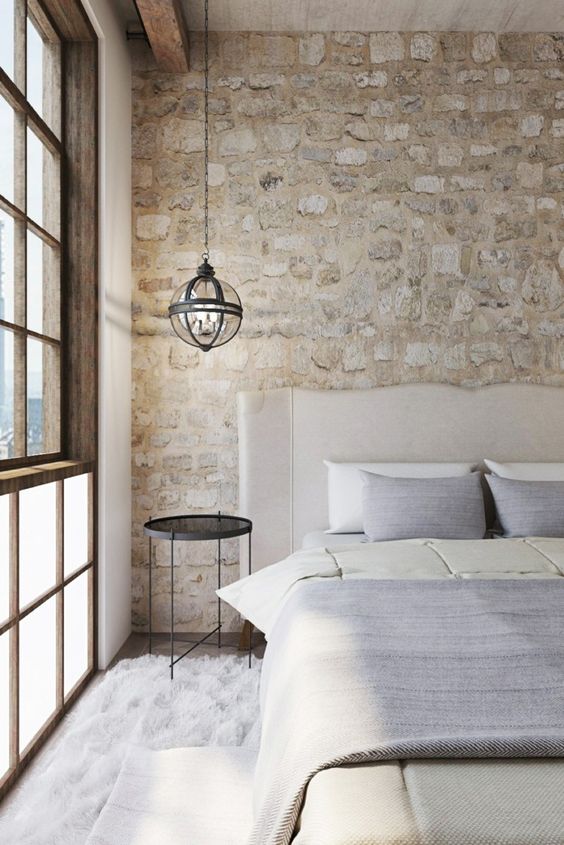 The natural feel of Rustic Design is very thick. Therefore, the materials used are natural materials.
Wood. Rustic style is present in rural areas that have cold climates. Therefore, rural communities make their homes feel comfortable using wood. Wood is used as a ceiling, wall, and floor. The use of wood is indeed able to make the room feel warm in cold climates.
Natural Stone. If you apply only wood material as a building material, the house will look unattractive and dark. Therefore, some rural communities use natural stone to make their homes look bright.
Brick. This material is usually used as a wall of the house. In Rustic Design, bricks are usually left exposed (unfinished) or now referred to as exposed brick walls.
Warm Natural Lighting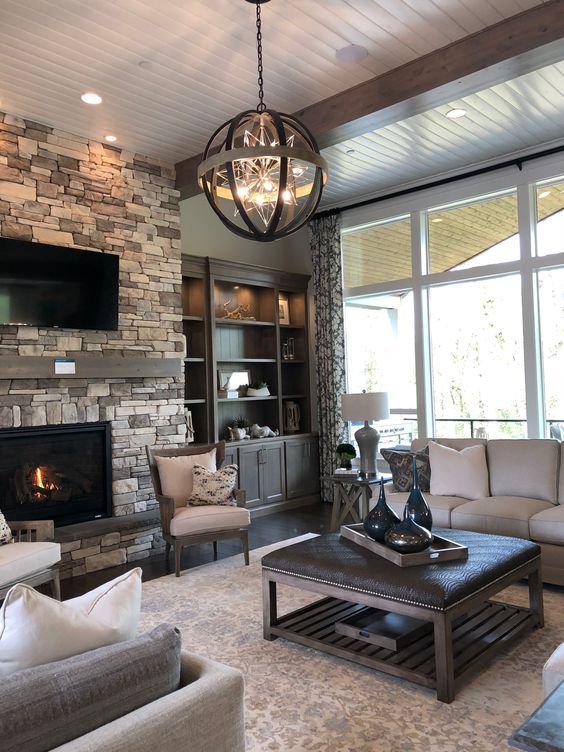 In the Rustic Design, to present a perfectly natural feeling, of course, the light used is also in the form of sunlight. As said before that sunlight is very good for a small room because it will make the small room feel more spacious and not cramped so that the small room will be cozy room. And this is why Rustic Design is one of the right designs to be applied in a minimalist home.
Very Attractive Farm House Style Furniture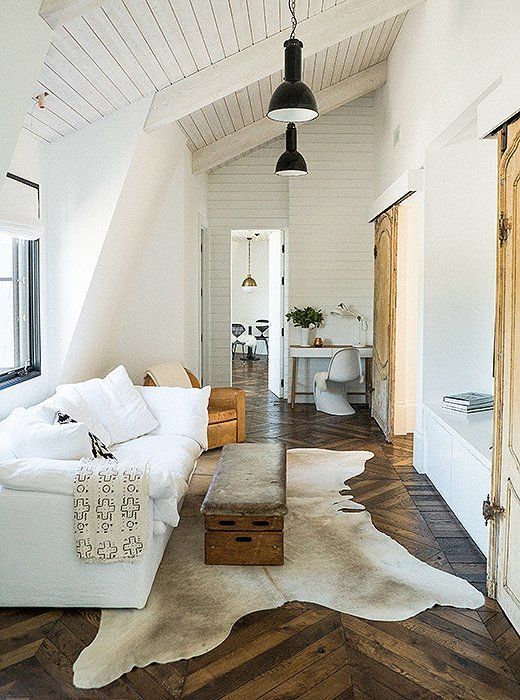 In Rustic Design, the furniture used is also furniture with the appearance of a thick and wood-based farmhouse. This is the one that makes Rustic Design so special.
Not only wood but increasing the use of fabric is also one of the characteristics of this design. The use of cloth has indeed become a powerful way to make the atmosphere of the room feel warm and comfortable. Not infrequently, the rural community uses carpet or rug made of sheep's fur.
3. Retro Interior Design
Retro Design is one of the designs that have been around for a long time but still exist until now. Its bright and attractive appearance makes this design much in demand. Retro design is also one of the most fitting designs to be applied to minimalist homes.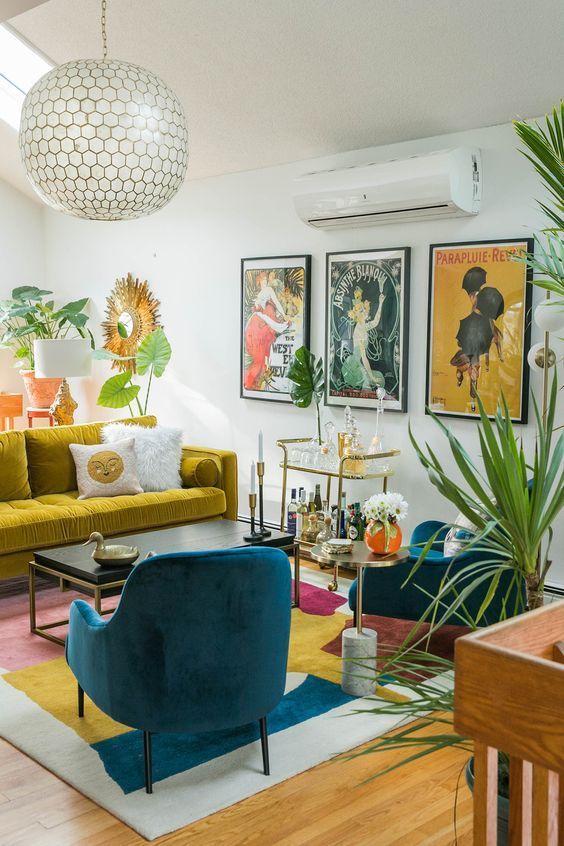 So, what are you waiting for? Here are the explanations about Retro Design that will interest you.
Colorful Appearance
The use of colors in the Retro Design is arguably quite bold. Because the colors used in this design are bright colors that are asymmetrical so the appearance of the room will be colorful and attractive.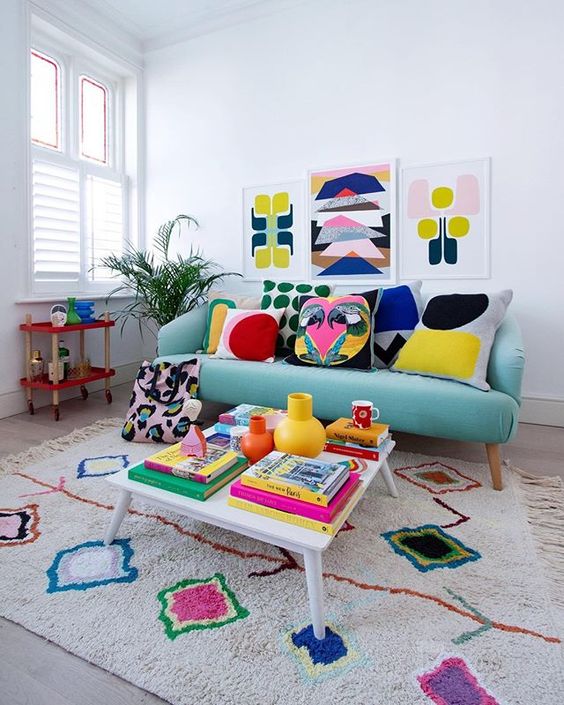 Here are the colors that usually used by Retro Design:
Yellow. Yellow is the color that can make a room look bright and attractive. The use of yellow in the room gives a little standout look so the room will look striking but still soft.
Red. To make the room look eccentric and bold, red is a favorite color that is usually used in Retro-style rooms.
Green. Indeed there are many kinds of shades of green. All these shades can be applied to a small Retro-style room to give the impression of fresh and bright.
Blue. Blue gives a soothing and bright sensation into a small room. In this way, the small room not only looks colorful and bright but is also quiet and comfortable.
Above these are the colors that are often used in Retro Designs. However, the appearance of the Retro Design itself is colorful, you can add a few colors that you like to the Retro-style room.
Geometric Motifs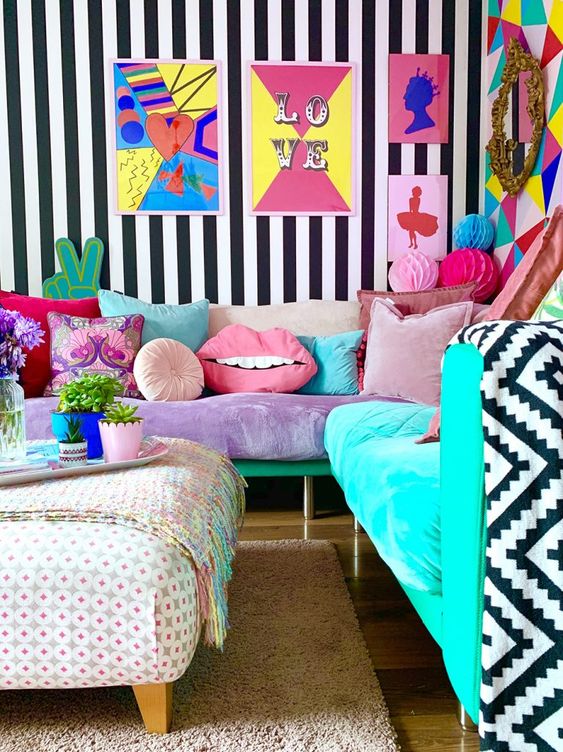 Although the use of colors is quite diverse, the appearance of the Retro design still looks simple. This is because the motifs used in this design are quite simple which is geometrical motifs, such as circles, squares, lines, and triangles. And the use of this motif is also not in every corner of the room, but only in a few spots.
Play on Textures That Make the Room Look More Special and Attractive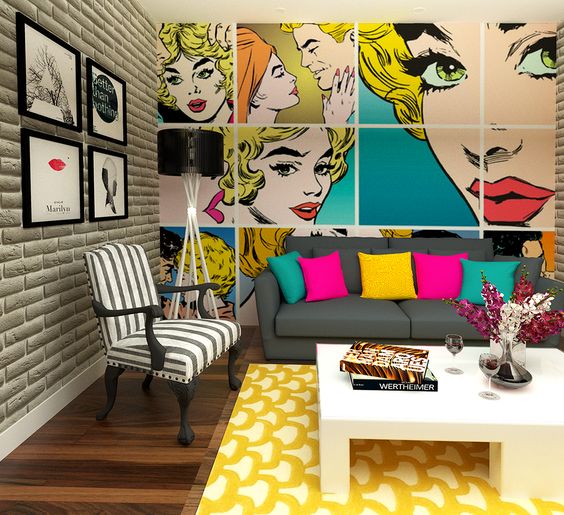 Not only playing on colors and motifs, but the Retro style also presents other special effects by playing on textures. Texture in this style is present in several items that are often present in the room, such as fluffy carpet, embossed wallpaper, cushion case with a smooth texture, and so on.
Conclusion
All houses can certainly be made comfortable and attractive. It all depends on how we decorate the rooms in the house and also the interior design that we choose. And for minimalist homes, there are several designs that can make this small house feel more spacious and comfortable, such as Scandinavian Design, Rustic Design, and Pop Retro. Each design has its own appearance and characteristics which is you can adjust to your personality and taste.