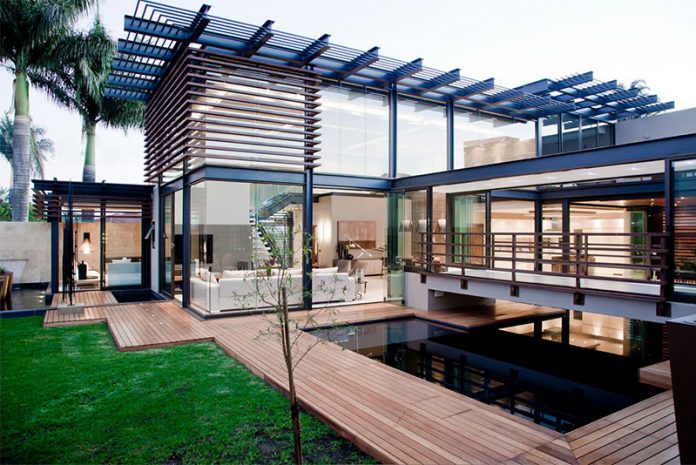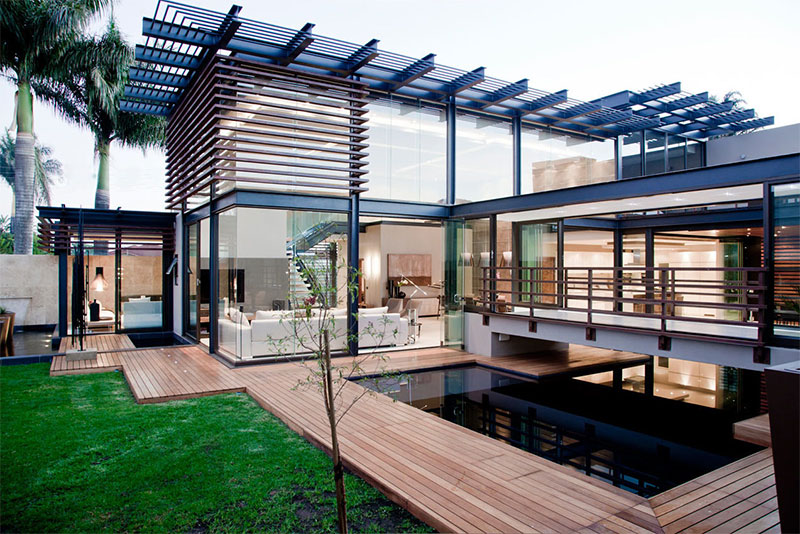 Simdreamhomes.com – Owning a luxurious home is not a bad thing. Apart from being a place to live, a luxury home can also be used as a long-term investment. So, for those of you who have more opinions, it would be better to reward yourself with a luxury house.
If you think a luxury home should be given a classic design or other design to make it look beautiful, that's a mistake. Because a luxurious house can also be used as a comfortable house with a minimalist look. By applying a modern design to your home, you can have a beautiful and comfortable luxury home.
One of the characteristics of a modern luxury home is that the windows used are large windows, the roof is made flat, the walls of the house are left plain even without decoration, so the house will look luxurious, clean, and neat. Usually, modern houses will also be connected to the outside so that the lighting can be maximized.
So, Let's Take A Peek at The Modern Luxury Home Styles That Look Minimalist!
Beautiful Modern Luxury House with 1 Floor
Owning a luxury home does not mean you have to make your house into two, three, or more levels. To apply a minimalist modern luxury house, a house with one floor can also be used as an option. The most important thing is how you design the exterior and interior of the house to make it look luxurious, modern, and also minimalist.
Minimalist Modern Luxury House with Beautiful and Calming Natural Nuances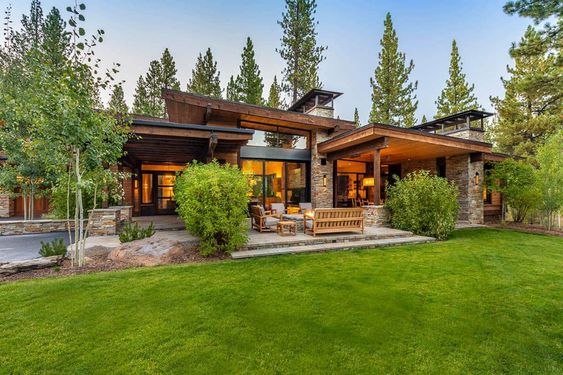 Natural shades are often the choice of many people to make their homes feel soothing and comfortable. Minimalist modern luxury house with beautiful and calming natural nuances is the right idea to apply.
It can be seen from the picture above, the material elements used to come from nature, such as wood, bricks, and natural stones. The combination of natural elements creates a calm and serene look.
You can also feel a thick natural nuance from the large green yard. It can be seen that the owner of the house wants to have a luxury modern house that is thick with natural elements. The green color of the grass and some plants looks so beautiful and makes the house feel fresher.
The homeowner also pays attention to the lighting used. To emphasize the warm and soothing nuances in the house, the lighting used is warm lighting. The large window shows the view in the house that is so calm.
White Minimalist Modern Luxury House with Elegant, Neat, and Clean Appearance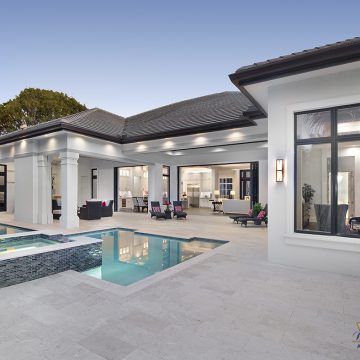 If you want a 1-floor luxury house to look elegant, neat, and clean, the minimalist modern luxury house is the right idea to apply.
White is indeed the right color to make the house look bright. Besides that, white is an alternative color to make it easier for you to decorate your home. This is because white will match any color that you will use in decorating your luxury home.
The application of white to the house makes the house look more spacious and luxurious. The bright lighting makes the white color appear so luxurious and bold.
It can also be seen that the minimalist modern luxury home looks beautiful with a slight touch of black on the roof, doors, and window frames.
Beautiful Modern Luxury House with 2 Floor
If you need more space in your house, a two-story house is the right choice. Applying a modern design to a luxury home makes this large residence look so neat, clean, and also beautiful. One of the worries of people choosing a large two-story house is the large number of empty spaces that can make the house feel empty and uncomfortable. However, you will not feel all of this by applying a modern design to your luxury home.
A 2 Storey Modern Luxury House That Feels Beautiful and Calming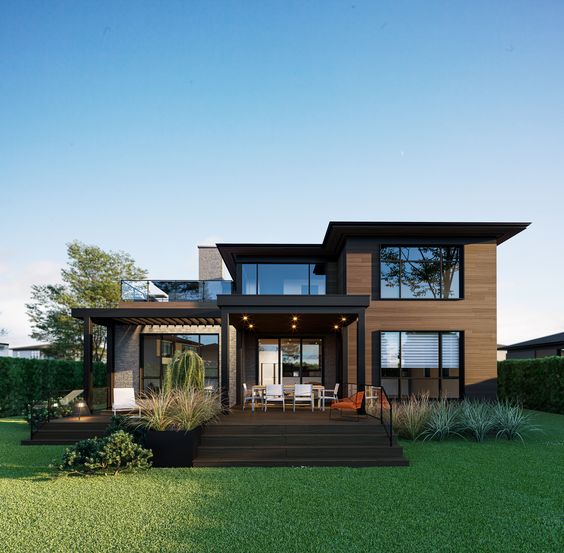 In addition to shelter and shelter, the house is also a place to gather with family. Therefore, presenting a calm and warm atmosphere is the right idea to make your home a comfortable place.
As seen in the picture above, the luxury house feels so warm and comfortable. The green grass makes this luxury house feel so fresh. Using the front yard as a gathering place is a right idea. White chairs look beautiful and dominant in a house with a slightly dark feel.
The use of large windows with black frames makes the minimalist house look very modern. The black color gives it a sharp and calm appearance.
The calm and warm atmosphere can also be felt and seen from the elements used in this two-story house. The dominant use of wood elements presents a very comfortable atmosphere. A little touch of natural stone gives a fresh and cool look. So that the appearance of the house will look balanced.
Open-Concept Modern Luxury House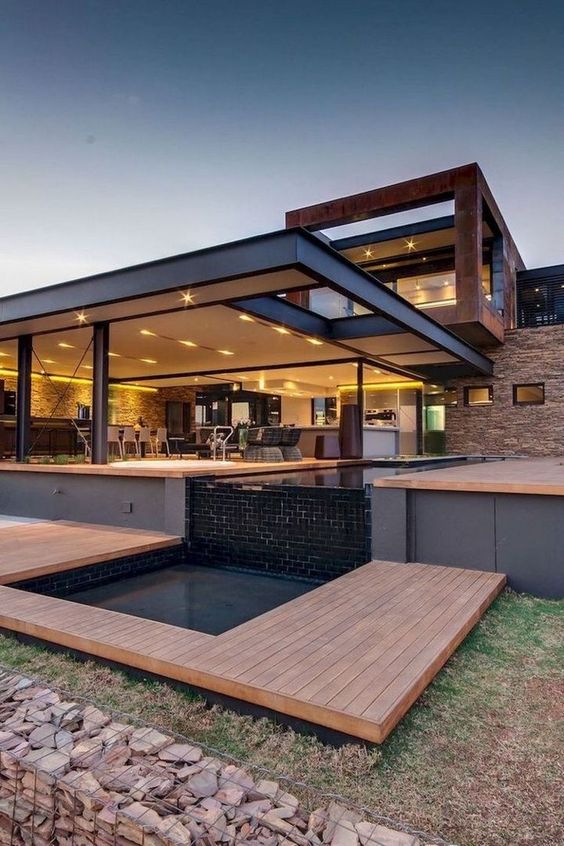 One of the drawbacks of large, luxurious homes is that they can easily feel empty and uncomfortable. In addition, the house will feel cold. Of course, this is something that must be avoided because the house is a place to live and relax.
Minimalist modern luxury house open-concept is the right idea. The lower room where the room is gathered can be used as open-space. With this, sunlight can enter the room optimally. Besides that, the air will also make this big house feel fresh and comfortable so that the house would not feel empty.
The roof of the room on the first floor is also made wider because it prevents rainwater from entering the room and making the room wet and dirty.
It is not only natural light that is considered in luxury homes, but the lights that are used also need attention. To make a luxury house feel comfortable at night, of course, a large house requires a lot of use of lights. Use recessed lighting fixtures to give a minimalist modern look to a luxury house.
Conclusion
A large and luxurious house is indeed the best gift for you. Besides that, the house can also be used as an investment. However, because the function of the house is as a place to live, take shelter, and gather with family and friends, automatically the house must be made as comfortable as possible.
A luxury house either one floor or two floors, of course, must be made comfortable and attractive. And above this is The Modern Luxury Home Styles That Look Minimalist. So, have you decided which modern luxury house of your dream?