1. About our home
We once lived in a house with a closed window design before it. To make the house look brighter, we want to know what it's like to live in the house and what needs to be changed and which parts don't need renovation.
Incidentally, The part that gets attention is the window. We think that by arranging large glass windows, the sun's rays will enter the house. Finally, the architect's bureau installed a large floor-to-ceiling window. For your information, the size of this window is the same as the size of a two-story house. They say with a window like this house will be bright and healthy.
With this design, we wanted a view from inside the house. Therefore, we replaced the permanent walls with windows glass to look bright. This two-story house has an area of ​​121 square meters. This house has three bedrooms, a living room, a dining room, a bathroom, and a laundry room.
2. Making the perfect design
By renovating part of the house, we hope that the interior of our house design will look brighter and more attractive. Therefore, we are looking for inspiration and good ideas to decorate the interior of our home. Then, we do some ways to get a beautiful design, comfortable, bright, and fun. After that, we changed the walls with large glass windows to make our minimalist home interior design looks more attractive. Of course, we made this design simple and did not use excessive materials, so you don't have to buy excessively to renovate windows. That way, the sunlight enters the house and makes our interior home bright. Then you can save electricity usage from morning to evening.
Then you must know, small things must be considered so that your home renovation looks attractive and has artistic value. In this article, we want to share ideas with you. But don't take it lightly, because it has a more important role in giving the interior appearance of your home look more beautiful.
Therefore, we are satisfied with the design because our minimalist house looks beautiful, antique, and unique. We are sure, by adding beautiful curtains to the window, the appearance of our home will be more attractive. Therefore, we will give some examples of simple interior design.
3. Choosing some material 
As we know, choosing the best material for a minimalist home can make it strong and less prone to damage. For home renovations, especially the minimalist type, you must select the best materials. Of course, to renovate your house from a wall into a window, you have to design it properly so that there is no wrong design. The interior and exterior of your home are a reflection of your personality. For that, you have to look for inspiration and ideas to renovate your home appropriately. Then, make the interior appearance of your home to suit your taste. For that, you can use a beautiful design so that the exterior and interior of your home make you and your family happy.
To renovate your home, you have to be good at designing it to match the exterior and interior of your home. Of course, the material you choose must adjust to the design of your home. For example, for the selection of wooden door frames, ceramic motifs for walls or marble, window models, and window glass models. Then, must be adjusted to the budget you have so that there is no waste of your lifestyle that can harm you. Therefore, to make your house look beautiful and pleasant, you can see the design in home decoration magazines or the pictures in this article.
In this article, we want to share ideas for making the interior and exterior of your home an idol for your family. For that, we describe some simple decoration pictures with economical and attractive designs so that your lifestyle is not extravagant.
4.
Some pictures of the best design
If we want to renovate our house, of course, we must have a sufficient budget. Then, to renovate and design our home, we must prepare a house design plan before starting, and there are no mistakes. So the results are satisfactory. Therefore, we want to give some examples of pictures of houses renovated.
This house looks more attractive with the best renovation. With a design like this, the interior of your home will look bright with sunlight entering your home. That way you can save electricity from morning to evening. Then, you can save your expenses every month.
For this reason, we will discuss one by one the house renovated in the article below.
Let's see the picture soon!
Living room with wooden and glass design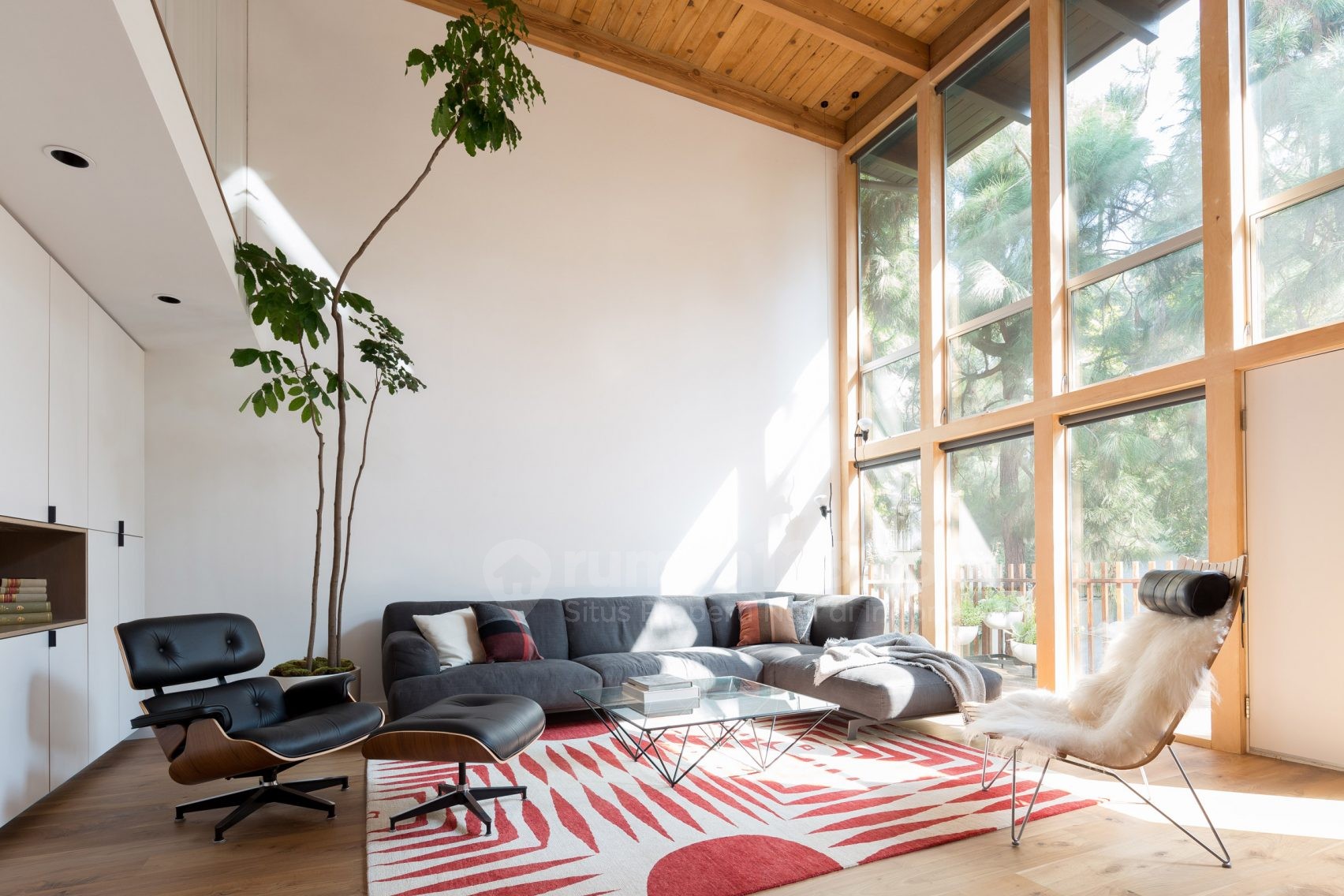 You can see in this picture is placing with some large windows with wooden and glass frame designs in the living room. Makes the result is that this living room is full of light. With this design, you can enjoy the view from inside the house. Then, with the entry of light into the house, you will be able to save electricity consumption for each month. However, to arrange some types of furniture, do not place it near the glass window because it can break the glass window.
Minimalist living room with large glass window design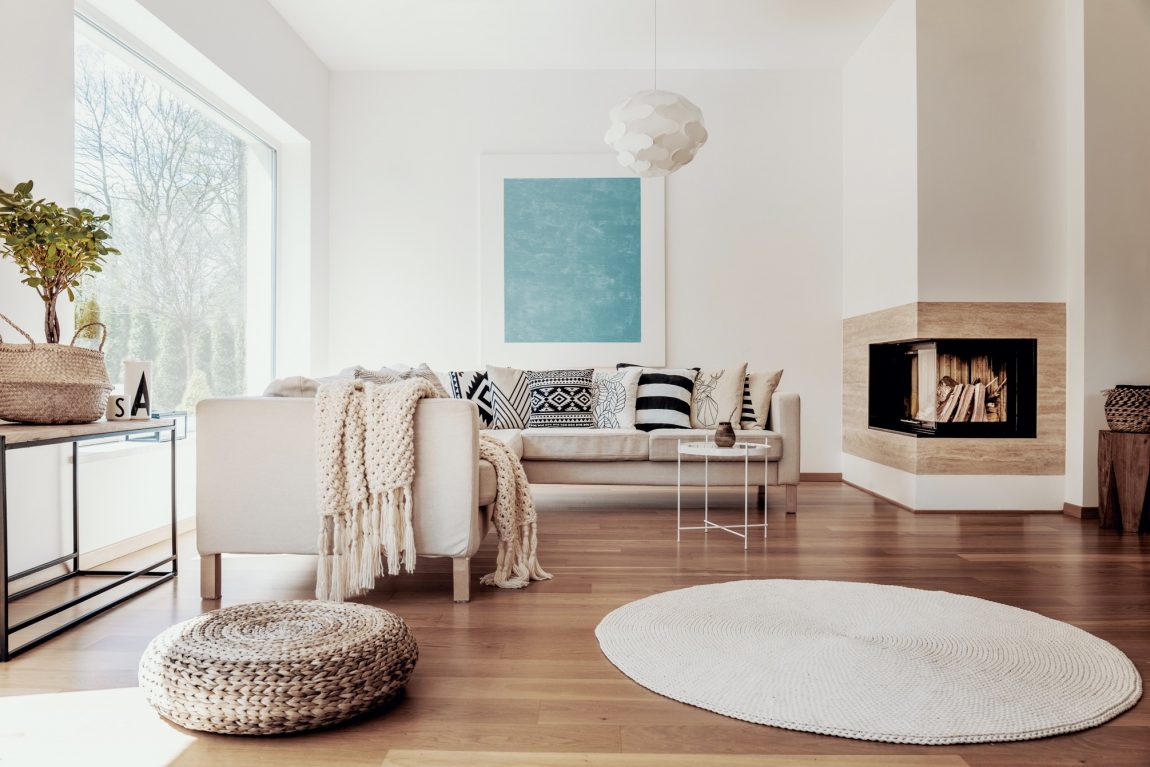 When you buy a house, you can't get the design according to your wishes. Then, to design all that, you have to renovate it according to your wishes.
In this picture, you can see this living room has been renovated with a large glass window and roof glass. With this design, this minimalist living room looks beautiful and luminous. So that this room looks bright by the sunlight that enters the house from morning to evening so you can save on electricity consumption and make your lifestyle more efficient.
Minimalist dining room with skylight design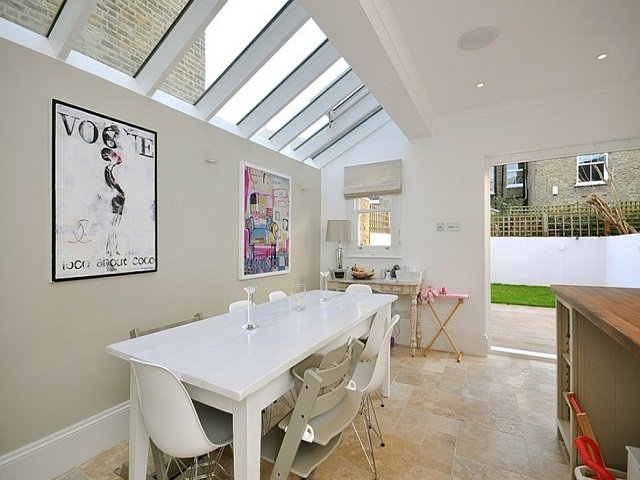 Presenting a skylight design in the dining room makes your home look unique and artistic. The roof of this house partially uses glass so that more sunlight will enter this dining room.
However, there are several things you need to consider before renovation with skylights. In addition to design, the choice of installation materials and components is the main point that needs to be considered because it is related to the safety of the installation. Therefore, you have to prepare a thick glass material for your save.
With this design, your dining room will be healthier, and you don't need lights from morning to evening, and you can save on your home's electricity consumption. Of course, this design can make you happy because you feel like eating in an open space. Hopefully, this skylight design is the most powerful way for those of you who like natural lighting in the house.
Beautiful living room with skylight design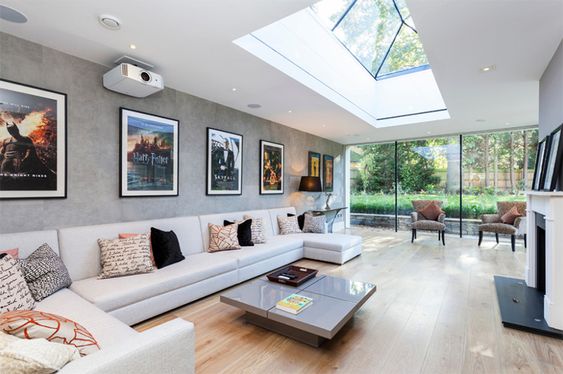 Having a beautiful living room with a starlight design is everyone's dream. In addition, this is good for air circulation, and incoming sunlight also provides the lighting needed in a house. Then, including the presence of windows installed in several parts of the house so that the lighting can be optimal. If you are bored with the same window design, you can make this skylight design.
Skylights are roof windows that can provide additional sunlight. There are various forms. There is an ordinary window that can not be opened and can be open. The existence of skylights in a house provides several advantages for its residents. The advantage is that your living room becomes healthy, and you can save electricity use during the day.
Minimalist bedroom with skylight design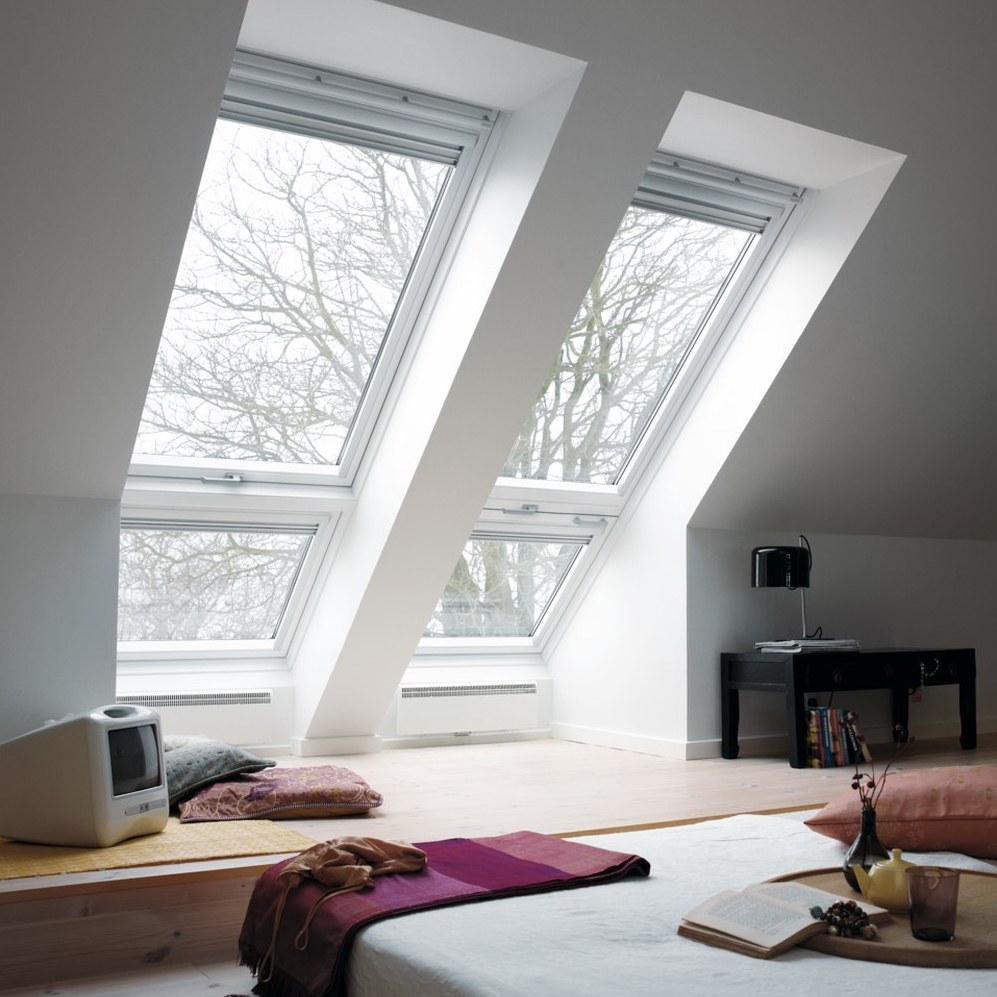 Skylights can improve the health of the home. Sufficient light keeps the house from damp. Keep in mind, a house that is not humid will kill the potential for mold and germs to breed. In addition, the furniture in the home also does not rot quickly.
Not only for homes, but residents will also get exposure to sunlight which contains vitamin D. Vitamin D is needed by humans for bone health. In addition, exposure to sunlight can reduce the potential for residents to develop bone disease at an early age, impotence, heart attack, and cancer. For that, we share ideas for you to design a skylight in your bedroom
Minimalist bedroom with iron and glass design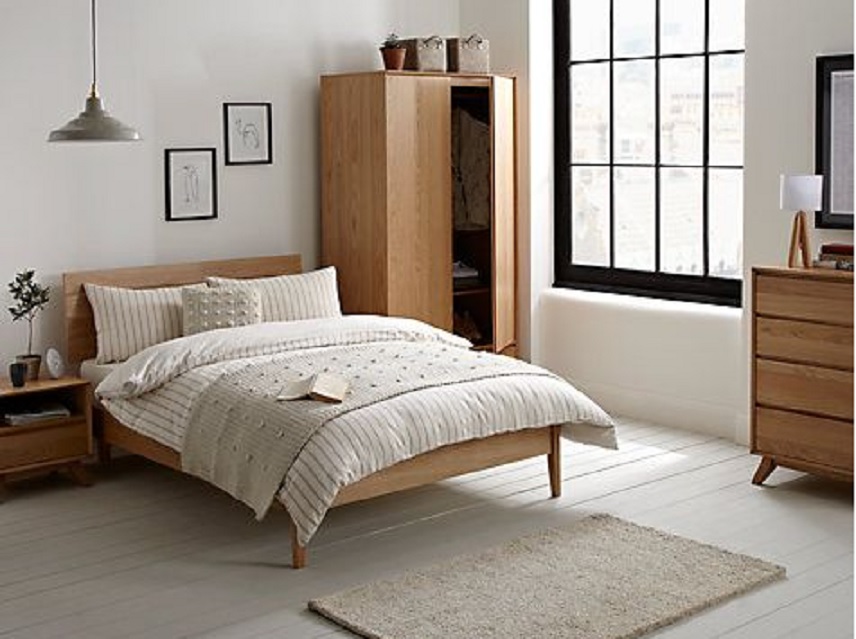 This simple bedroom looks bright with a glass window design with an iron frame. This minimalist room design makes the sun that enters the bedroom and makes the bedroom bright.
With this glass window design, sunlight entering the bedroom can make your bedroom not need light from morning to evening. Then the bedroom and your bedding will also not become damp and make the bedroom healthy so that you also become healthy. Then you can save electricity consumption in your home.
Beautiful dining room with skylight and window glass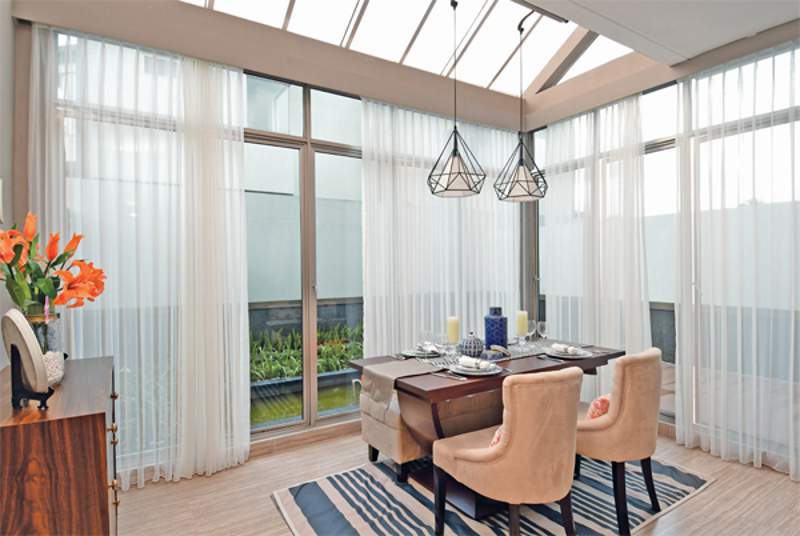 Decorating the dining room with simple furniture can make your lifestyle less extravagant. But it doesn't stop there. You should also consider making other comforts in your dining room. For that, you can make a large glass window like this picture. With a window design like this, full sunlight enters your dining room and makes the interior of your dining room look bright and pretty.
With the entry of sunlight into your dining room, you no longer need to turn on the lights during the day so that your electricity usage will be efficient. Then your dining room furniture will not be damp so that the dining room becomes healthy. A healthy room will make you healthy too. Happy decorating!
Kitchen room renovation with wooden and glass design
You can see this kitchen has been renovated with several large windows and with wood and glass frame designs. In this way, the result is a kitchen full of light. With this design, you can enjoy the air from outside, and the cooking smoke will leave the kitchen and not collect in the kitchen. Then, you can see, the sun entering from the roof of the kitchen room and window glass and can make a healthy kitchen space and save electricity consumption every month.
If you want to make your kitchen room more attractive, the furniture must be arranged like in this picture so that your kitchen looks bright and not cramped.
The simple minimalist dining room includes a kitchen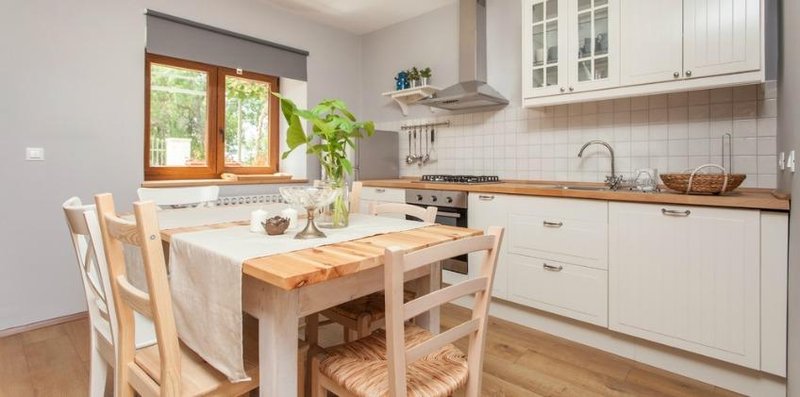 This minimalist kitchen room has equipped with a dining table. With a design like this, you already have a practical design. Then, the kitchen design in this picture makes you no longer need to use lights when cooking during the day. Then, this glass window design makes the sun enter the kitchen room and makes your kitchen bright and healthy.
With this design, you will also be healthy, and you can save electricity consumption in your home. Of course, your lifestyle does not become extravagant, and you can save your money for more purposes.
6. Conclusion
If you want to design and organize your home to save electricity. We present the best design. Then, to make a beautiful house. You must choose a beautiful design to look more attractive, beautiful, luxurious, and An Aesthetic.
In this article, we explained the best pictures of beautiful designs. Then to design it, of course, you will have to spend the money. But if you don't have enough money, you can make it according to the picture we explained and then give it to the home decoration company. Hopefully, you can make like this picture. Hopefully, this article can help you make your home look beautiful. Happy decorating!