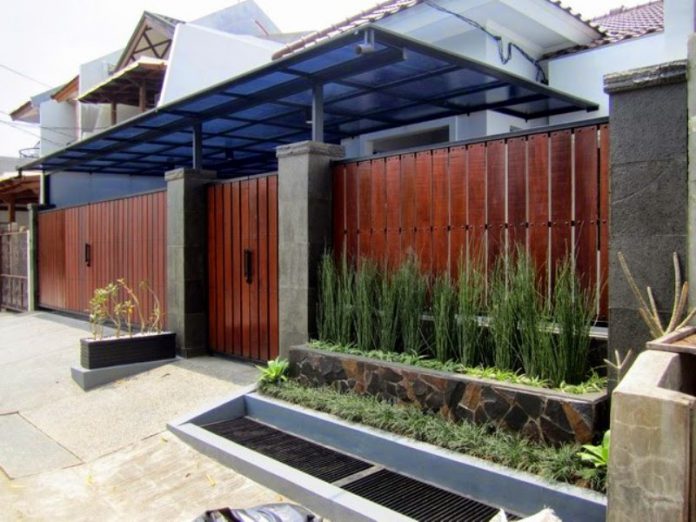 In this modern era, many people prefer to buy a minimalist model house. But for a low price house, of course, it is rarely equipped with a fence. To making secure this house, the front must install a fence. However, the fence function does not only for a house protector and also can be made for house decoration to look more beautiful and luxurious. For this reason, many people are looking for the best fence design for their homes.
For fence designs, the current trend is a fence with a minimalist model. This minimalist fence is easy to make, and the model is also lovely by many people. Then to make a minimalist fence doesn't cost a lot of money, but there are also minimalist fence models that make it an expensive cost. Of course, for luxury homes.
In this article, we explained some examples of minimalist fence models that you can make. The model is modern, and the cost of manufacture is not expensive. For that, let's discuss one by one the minimalist fence model and the materials used to suit your home and your taste. Happy creating and choosing for several minimalist fence models below!
Minimalist fence of iron trellis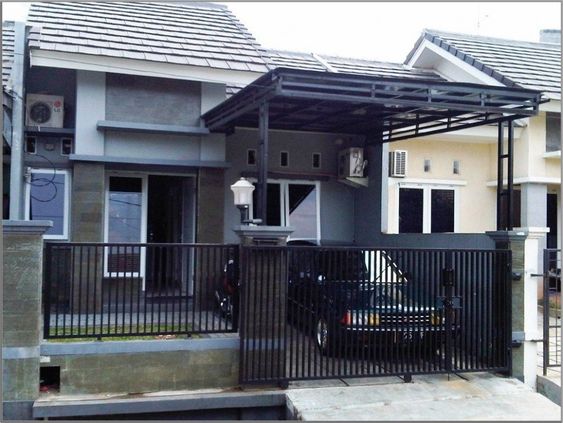 Making a house fence, of course, must be adjusted to the size of the house and then must be designed with beautiful according to your taste.
As in the picture above, the house uses a fence of different lengths made of iron. The length of the gate fence is different from the length of the front of the garden.
The fence model above is more suitable for a minimalist size house. The fence material is made of iron and designed with a vertical model such as trails, and it makes the appearance of a minimalist home beautiful and charming.
Minimalist fence with natural stone ornament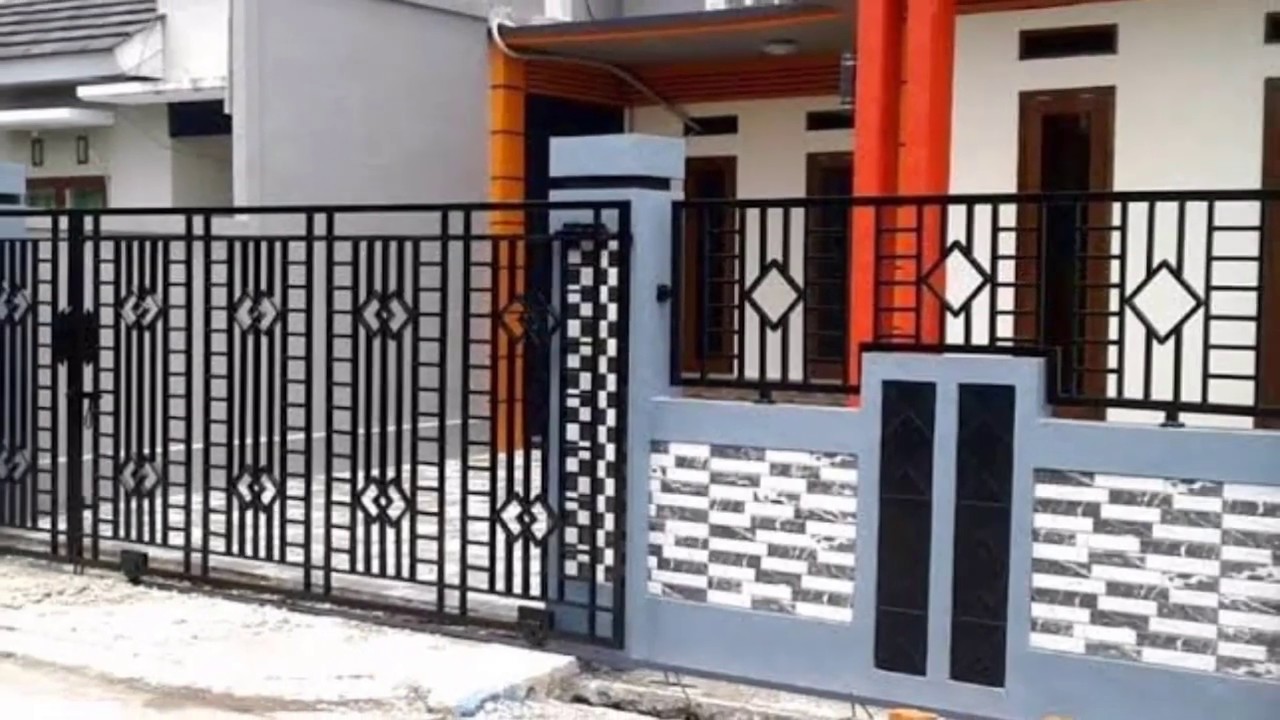 The fence model doesn't have to be monotonous. Therefore, You can add natural stone and other shape ornaments to this fence design as a rhombus. With a combination like it, the fence looks more varied. For example, Natural stone motifs can display a minimalist fence model, then a profile for decoration fence can make the house look beautiful and harmonious.
To make a fence like this picture, you have to design it correctly and according to the model of the house, and you must know the cost to make this fence is not too expensive because you can combine iron and natural stone motifs. In this way, this fence is more durable and long-lasting.
One Side minimalist fence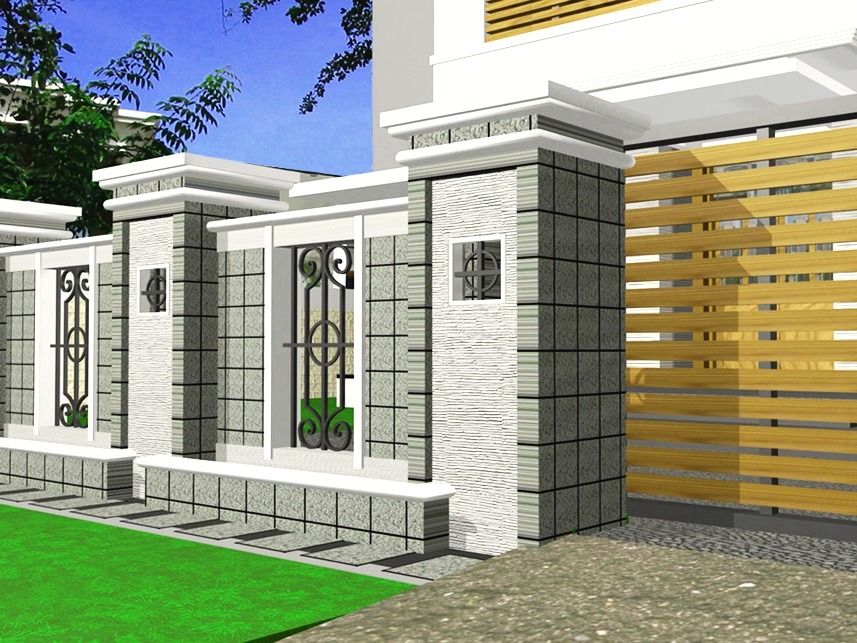 Having a spacious and luxurious house is everyone's dream. Of course, you will feel safe with the fence in front of the house. But if your goal is only to beautify your fence house. You can use a fence house model with a side model, but this fence model does not prioritize function but rather beauty.
Then for a house like a picture above, the gate should be made high parallel to the fence wall. To add to the beautiful fence, Don't forget to add a profile to the fence wall and variety.
Minimalis fence with a combination of iron and brick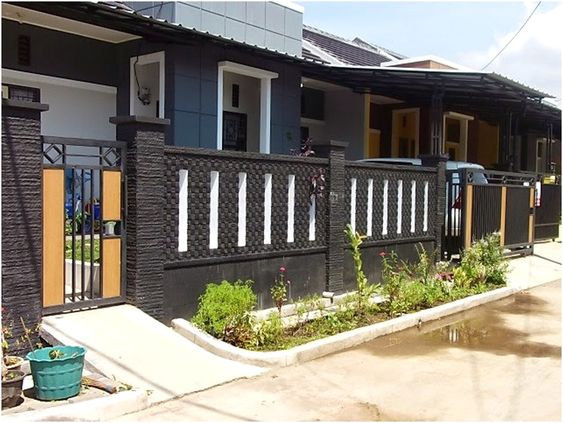 Making house fences does not have to be made of iron but can also be used of bricks, natural stone, or concrete. The combination of these two types of materials can combine for a wide-sized house. For the fence model above, it is more suitable for people who do not have four-wheeled vehicles. Therefore, the fence is not too high because it can cover the beauty of the house.
For fence models that do not have vehicles, you should be able to make a one-door fence model so that the appearance of your home looks more attractive. For the fence model in the picture, don't forget to made variations on the fence wall and door fence. To add to the beauty of the house, you should create a flower garden.
Modern minimalist fence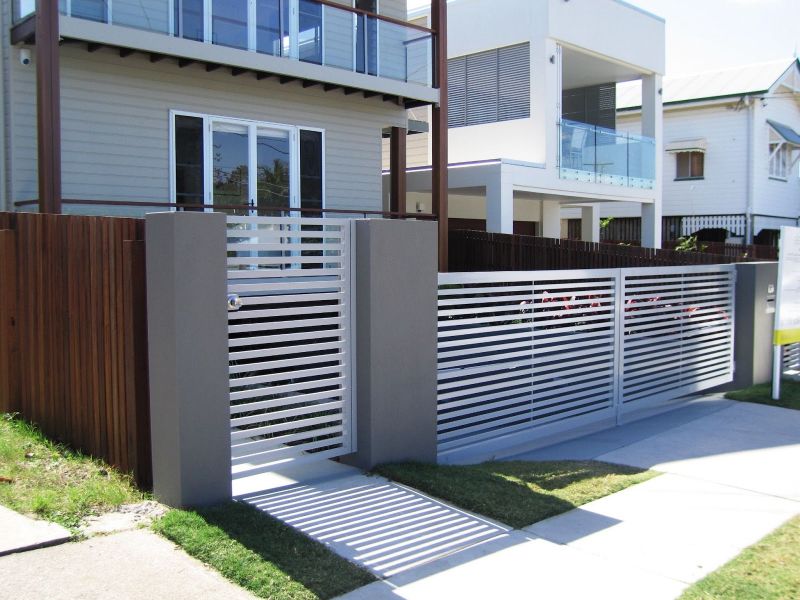 The colors that are suitable for minimalist home designs are pastel and white colors. You can also apply this concept when choosing a fence. One of the colors to choose from is white. You can see this fence looks simple impression. But at the same time look luxurious and elegant.
A fence like this picture should make by adding stone walls so that the cost is cheaper. Then use a combination of iron and stone walls between two doors. In this way, add to the beautiful appearance of the house.
Minimalist house fence from wood and natural stone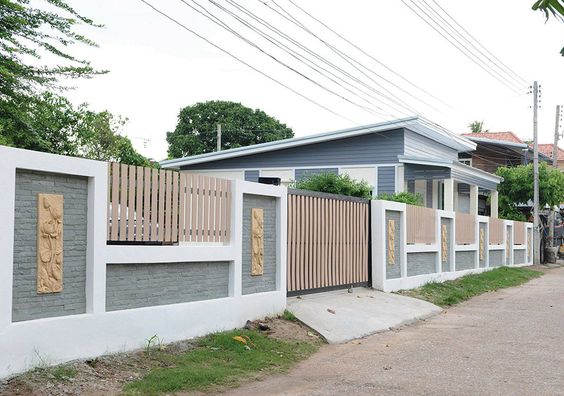 Not all minimalist home fences are making of iron or brick. You can design it to make it look beautiful and unique. For easy design, you can combine natural stone with light wood. This color combination emphasizes the minimalist color.
For a fence like this, you can use wood and bricks. Then for the fence walls should be made of gray and white color profiles. Then for the color of the wood, you still use brown or the original color of the wood. In this way, the fence will look beautiful and bright so that your home will look beautiful.
minimalist house fence from iron holo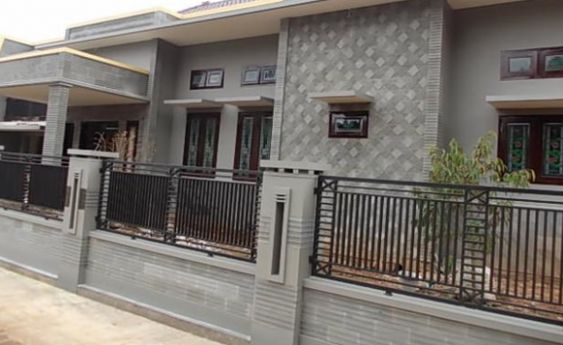 The appearance of this house looks wide. For a house model like this, you must be good at combining materials so not wasteful. But if you want to make a fence for a large house, you should use this one-house fence model. In this way, you can combine a holo iron fence at the top and a brick at the bottom. By combining two materials like this, your home will look more beautiful.
To look at the fence more attractive. The brick wall is make profiled and given a gray color so that the fence model is not monotonous and boring. Then the iron model was made like a trialist and painted black. The combination of these two colors makes the fence more accentuate the minimalist impression and look attractive.
High size minimalist fence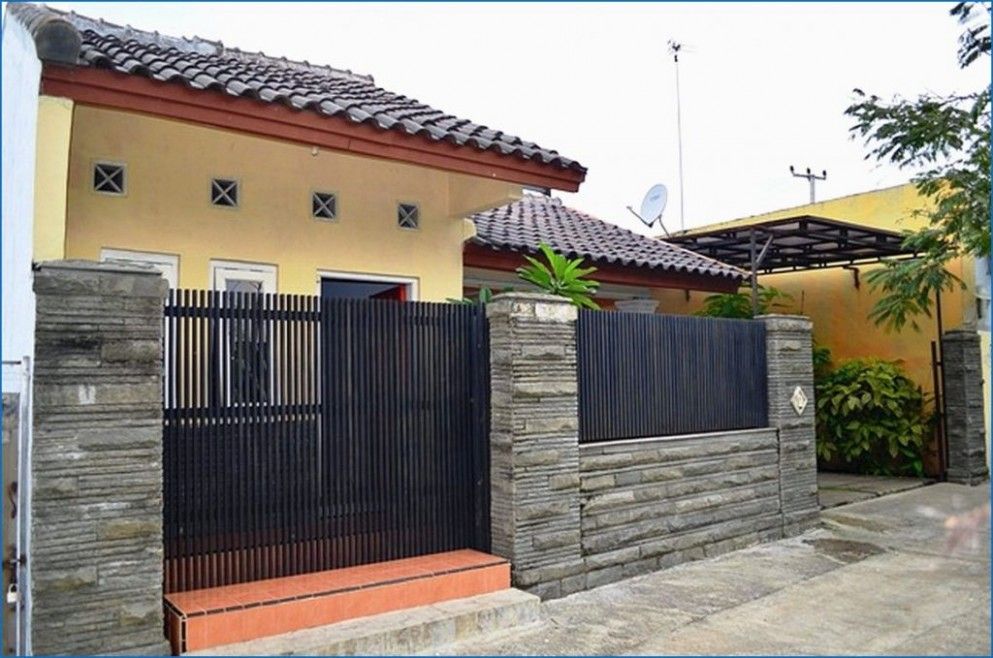 A fence with a high model is very suitable for minimalist homes with a thief-prone environment. Of course, this fence is enough to protect the inside of the house. In this way, thieves are not easy to come into the house. For that, you have to design it safely.
In the picture above, a combination of natural stone with gray color and hollow iron with black color makes the minimalist impression of the fence so looks beautiful and charming.
Simple minimalist house fence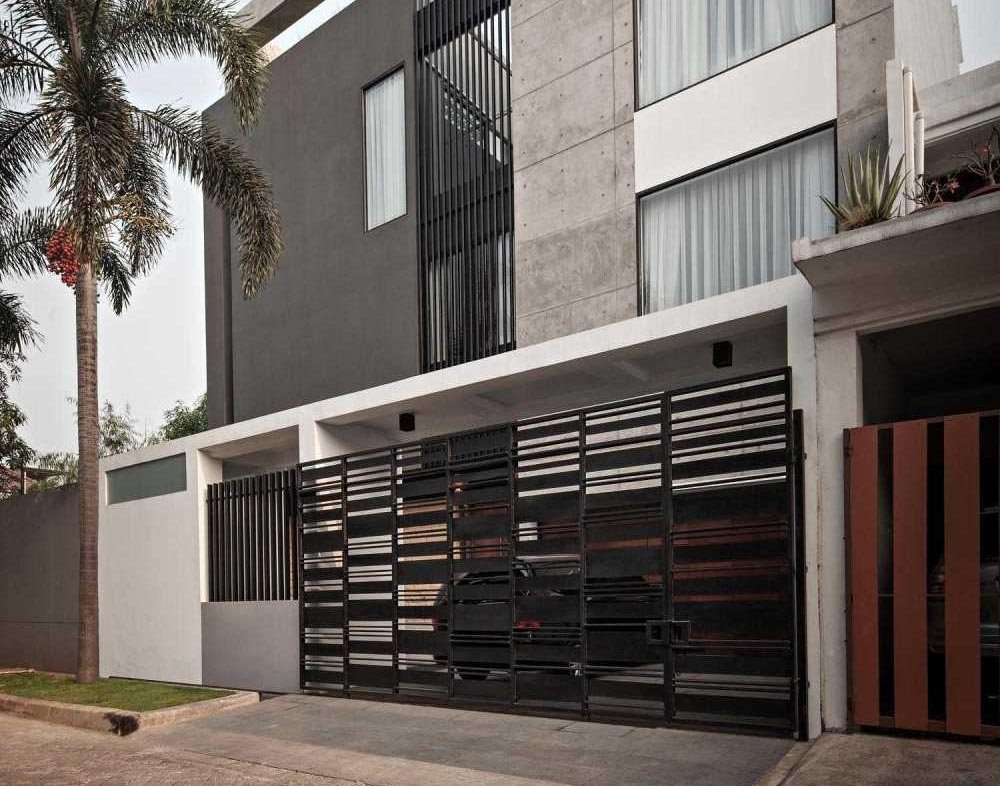 Minimalist house fence does not mean very simple, not varied, and the model is just that. However, the term minimalism is maximizing for their function. There are no form restrictions nor material restrictions. The important thing is that each element must function at its best.
This article describes an example of a minimalist home fence that can use as a reference for your home. This fence is suitable for high-rise houses. Then the fence model is made high to cover the front of the house. Therefore, the house level looks more magnificent and attractive. Then the combination of the light color of the fence wall and the dark color of the gate makes the house look beautiful and luxurious.
Minimalist fence covering the building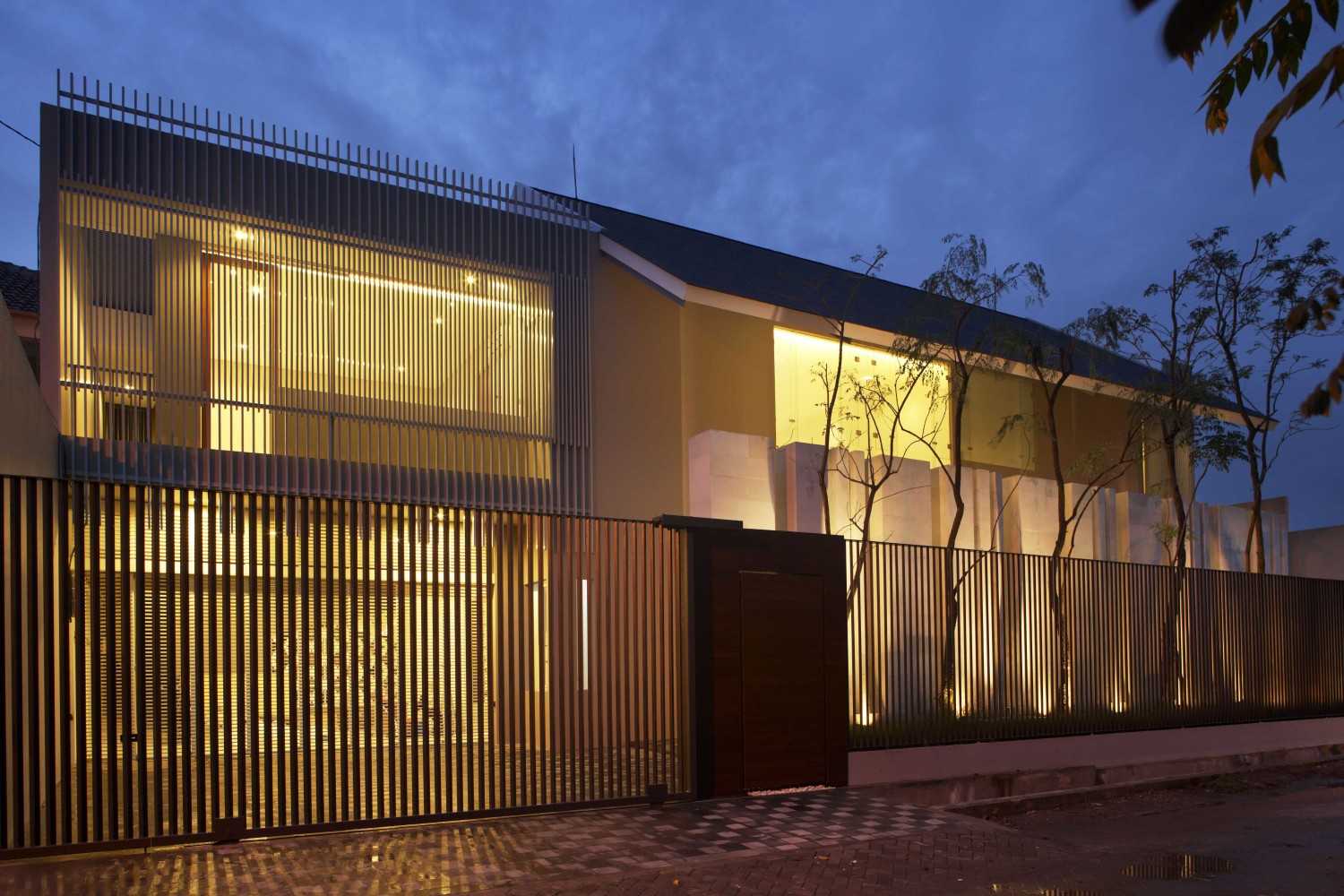 Having a big luxury house certainly makes you always think about home security. An unsafe home certainly makes your soul not calm and comfortable. Of course, you have to make a secure fence that thieves can't enter.
In the picture above, you can see the model of the fence is made high and uses hollow iron. Then the model is made like a trellis, and variations in the middle with dark stone walls. To make a fence like this, of course, you have to prepare enough money, so that the results are like your wishes. With a model like this picture, the house will be safe and make you comfortable.
Minimalist fence with a short model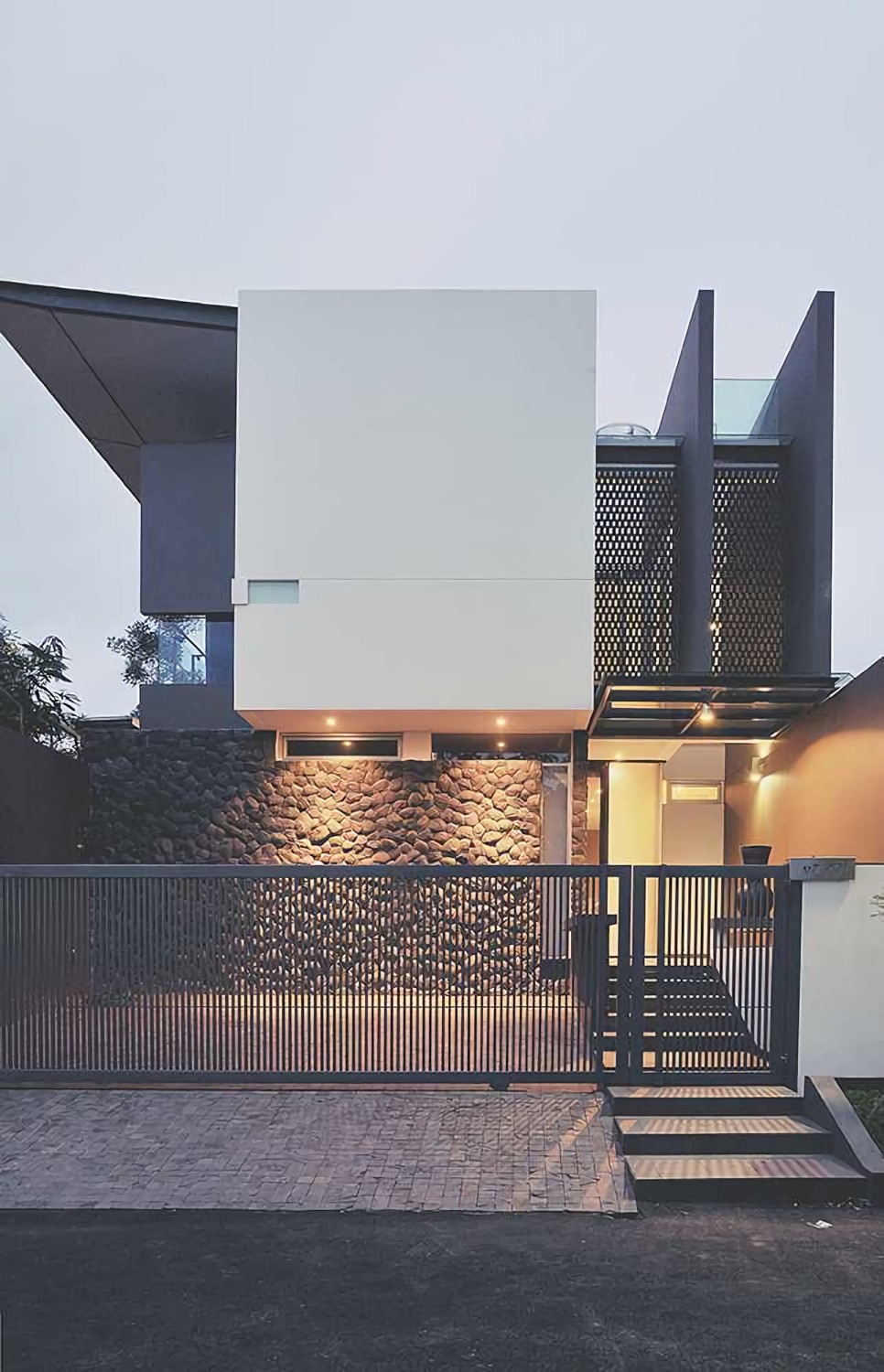 The appearance of the minimalist fence of this beautiful house seems to highlight the simple impression. Simplicity is look in the fence model and is made short and without variations. But the elegant touch is still visible.
This minimalist fence not only functions as a safety, but this minimalist house fence also emphasizes the facade of the house. The straight-line model becomes a fence model. Of course, to make this fence more magnificent, it is painted a dark color so that the house looks more luxurious.
Minimalist fence model with natural colors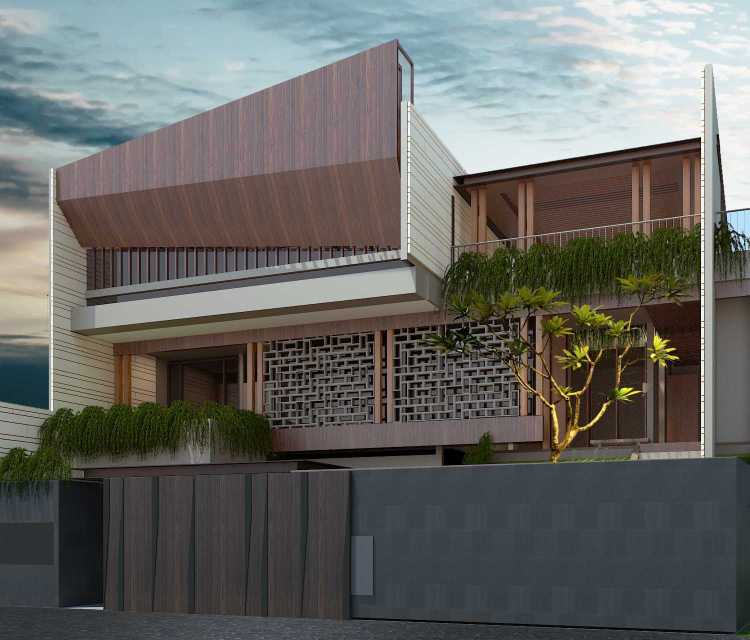 The appearance of this level house looks beautiful and luxurious. This house fence model has used dark ceramic wall models and a combination of iron doors and brick motifs. The color of the minimalist house fence generally applies natural colors, such as white, concrete gray, black, and brown. Then the goal is to strengthen the minimalist impression, so their simple model can blend with nature.
In this way, the black and brown colors can give a luxurious impression of your house. Meanwhile, white and gray concrete impress bright buildings.
Minimalist fence with concrete walls

In the picture above, the appearance of the house looks beautiful and majestic without a fence. In this house, there is no limit to the fence model that must cover the house. Then, there is no requirement that the material must use in a minimalist fence design like this house. The fence is only limited to the garden in front of the house. As for the garage door is opened and does not use a fence door.
Minimalist fence with artistic model
Architectural styles are increasingly diverse and growing and increasingly open the creativity of architects to enrich architectural designs Likewise in the minimalist home fence design. Then, a minimalist style that seems more modern can combine with a rustic style, so it looks more ancient.
In the picture above, the fence is making of iron carved and combined with the wall model. The painting models like this look more attractive and always be present in the house. But, you can also present your favorite painting on the iron fence of your home. With a model like this, it is a guarantee that the appearance of your house fence looks beautiful and charming and makes the guests present amazed!
Minimalist wooden fence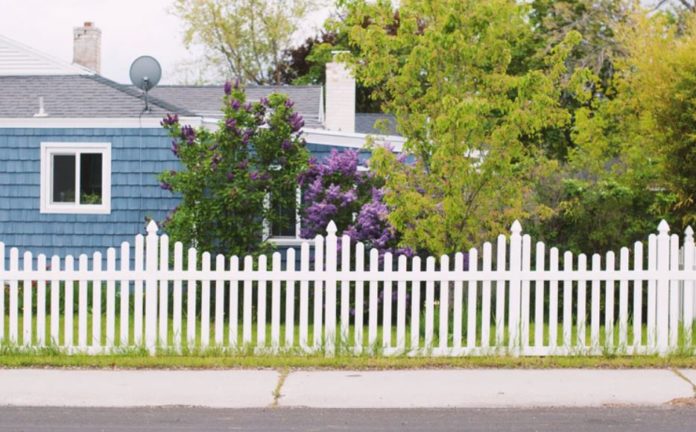 Creating a minimalist fence does not have to use iron and luxurious walls. But you can make it with wood that has been designing with beautiful models and bright colors. With this simple appearance, your fence house can identify from the outside.
For those of you who are interested in the fence above, it certainly doesn't cost a lot. To make a fence like this wooden model, you have to get some design inspiration so looks attractive. But still, adjust to the model of your home and the area of ​​your home so that its appearance can attract people's attention.
Iron minimalist fence with bright color
In the minimalist fence picture above, the white color and iron material further highlight the minimalist model, thus making all who look interested.
To make a fence like the one above, of course, you have to look for new inspiration and innovation to make it look beautiful and unique. The fence above use an iron with high and low models and parallel then made one door model. In this way, it makes this fence seem appropriate to cover the front garden of your house and make your plants in the garden area look more beautiful.
Modern house fence paint color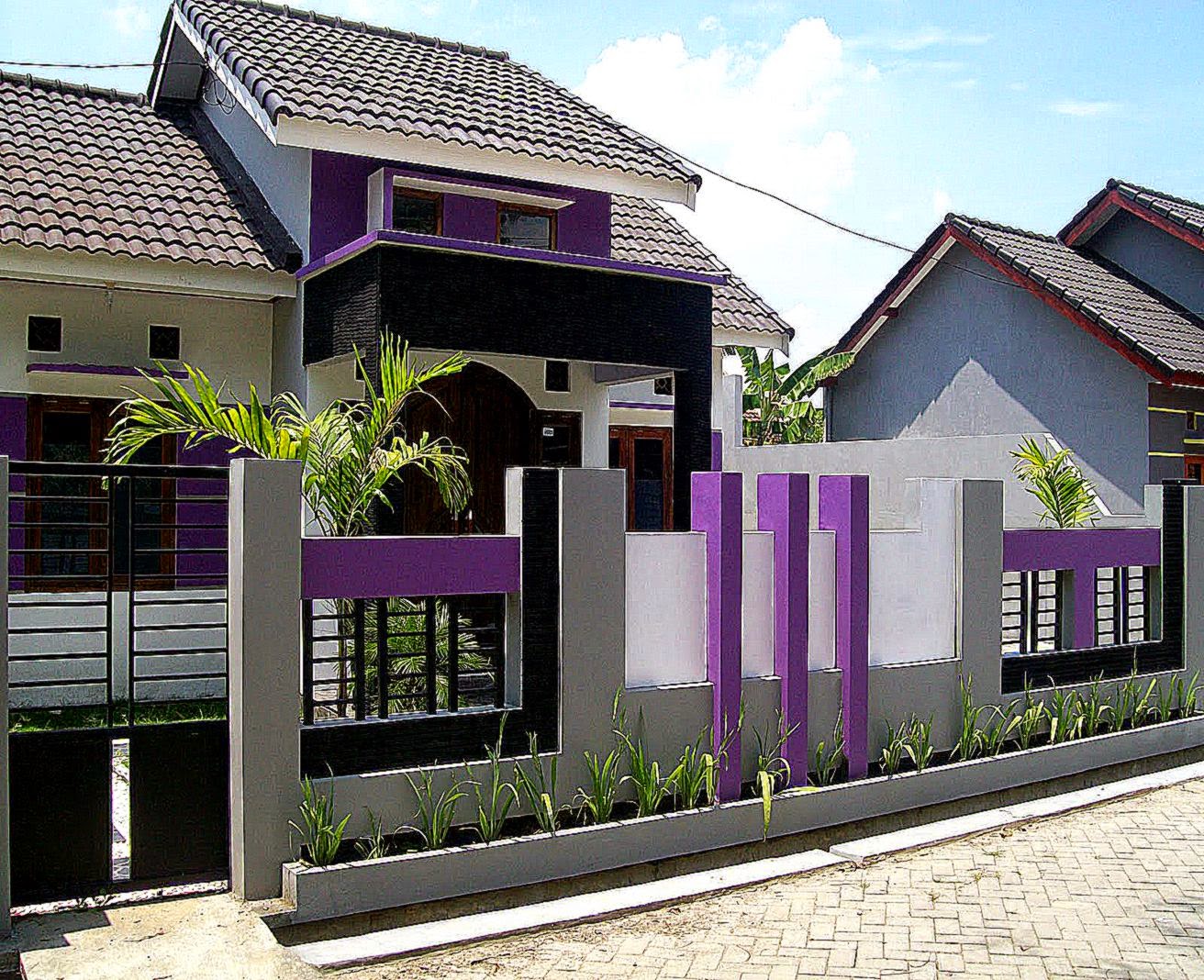 One of the materials to beautify the residence is the paint color. In this way, your fence is recognizable by people. Of course, the color of your house fence can use for a residential identity. For this reason, there are various motifs for you to change the exterior feel of the house so not boring.
Before installing and choosing a fence house color, first, identify the types of fence colors so that the color of the fence that you use matches the model of your home. Then try to make a color combination as above to make your home fence is easily recognizable.
Conclusion
Several Ways to Make Your Minimalist Home Fence Look Beautiful and Luxurious. Therefore, you should choose the best design for your house to be appropriate to your home's interior.
In this article, we explained some ideas on how to make a beautiful and secure home fence. Then to make it, of course, you will have to spend the money if your playroom has to be decorated by a home decoration company. But if you don't have enough money, you can make it according to the picture we explained then give it to the fence maker.
Hopefully, this article can help you to create and organize your home fence. Happy decorating!